I have a long-time love affair going with both mashed and baked potatoes in general…just let me state that for the record right at the get-go.
So a while back when baked stuffed potatoes became an actual thing, it was the potato equivalent of having your cake and eating it too, because you got the baked and stuffed part All In One Potato!  Whole new vistas opened up for me, and it was only a matter of time before I worked my way to stuffed taco potatoes.
It started (as so many things do for me) with the fact that I had a little leftover grilled chicken.  Leftover grilled chicken is something that I try to have around on purpose, because it can lead to so many delicious things.  Gazpacho chicken salad, for example.
Or chicken and brie sandwiches.  But in this case, I had a couple of potatoes hanging around in addition to the grilled chicken, and it's as if all the moons were aligning the right way.  Stuffed taco potatoes were about to be born.
First start by finding some nice roundish potatoes.  We're going to bake 'em and scoop out the insides, and the potato "shell" that's left over is going to be the holder for the mashed taco potato wonderfulness.  So…the wider the potato, the more wonderfulness you get.  Just saying.
After they are baked, give them a little time to cool down just enough so you don't singe your fingers scooping out the insides…10 minutes or so will do it.  Now cut off the tops length-wise and scoop away, getting as close as you can get to the skin of the potato without breaking it.
And now here comes the magic!  Mash up the potato with some cream cheese, some butter, a little half and half and a nice generous dose of taco seasoning.  Once your taco mashed potatoes are good and mashed, if you have some grilled chicken hanging around now is the time to mix it in.
Now line up those potato skin shells – it's time to fill them on up with your mashed potato mixture.  Personally, I like to use my hands for this, but you be you when it comes to filling them up.  You're going to have enough potato mixture to heap it nice and high in the potato shell.
Now sprinkle the top of each potato with some shredded cheese (cheddar and jack cheese both work well) and pop them back into the oven until the cheese is all nice and melty.
All that's left to do now is go crazy with garnishes.  Personally I went with some guacamole, a little sour cream, some ground red pepper and some chopped scallions along with a squeeze of lime juice, but really the world is your oyster, garnish-wise. Salsa, sliced jalapenos, crumbled tortilla chips…go crazy.
And to think, it all started with a baked potato.
Still Hungry?
Baked Potato with Ricotta and Tomato, from Framed Cooks
Twice Baked Potatoes from Add A Pinch
Print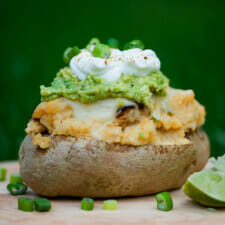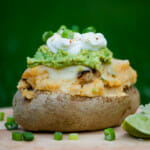 Stuffed Taco Potatoes
---
Prep Time:

20 minutes

Cook Time:

20 minutes

Total Time:

40 minutes

Yield:

4

servings

1

x
Category:

Dinner

Method:

Microwave and Oven

Cuisine:

American
Ingredients
4

large russet potatoes

4 ounces

cream cheese, softened and at room temperature

2 tablespoons

butter at room temperature

1/2 cup

half and half, warmed

1

packet taco seasoning

1 cup

cooked shredded chicken (optional)

1 cup

shredded cheddar or jack cheese
Any of the following for garnish: guacamole, sour cream, chopped scallions, salsa, chopped jalapenos, crushed tortilla chips, ground red pepper, fresh lime wedges
---
Instructions
Scrub potatoes well, pierce a few times with a fork and bake until soft, either approximately 10 minutes in the microwave or one hour in a 350 degree oven. Cool for 10 minutes.
Cut the tops off of the potatoes lengthwise and discard. Carefully scoop the cooked potato out of each potato skin, leaving the skins as intact as possible.
Mash all the potato insides with cream cheese and butter. Add half and half in small increments until the potatoes are a consistency that you like (you might not need all the half and half). Stir in the taco seasoning until well-mixed, and then stir in the chicken if you are using it.
Sprinkle cheese on the top of each potato. Place the potatoes on a baking sheet and bake in a 350 degree oven for about 10 minutes or until cheese is melted.
Garnish with your choice of toppings and serve at once.