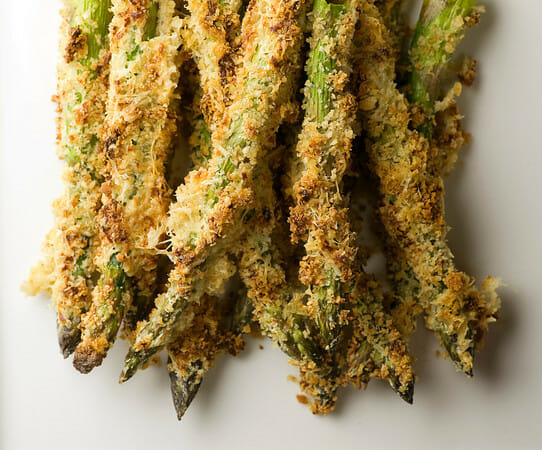 Ah, honey breadcrumb asparagus! Here's how this one happened. Every once in a while, I don't want an actual dinner. I'm definitely hungry, and I want something that is warm and satisfying and delicious, but I'm not interested in the whole knife and fork and sitting down at the table thing. I want finger food, and I want to eat it on my sofa curled up next to the Southern husband while watching a DVRed version of Mad Men that lets me whiz through the commercials. And so here's how I got away with serving honey breadcrumb asparagus…and only asparagus…for dinner the other night.
Now, those of you who have spent some time on this blog know about my love affair with asparagus. Shaved asparagus salad. Grilled asparagus pizza. Asparagus frittata. There's pretty much no length to which I will not go to eat asparagus, and the Southern husband is always pretty cheerful about it. But when it comes to an asparagus-only-dinner, I knew I would have to pull out the big guns. Nice thick asparagus (the skinny ones won't work well in this recipe). Parmesan cheese. Panko bread crumbs. Cayenne pepper. A little butter. And a touch of his favorite honey. You mix up the cheese and the bread crumbs and the spices, and whip up a couple of egg whites with the honey until they are light and fluffy. Roll the asparagus in the egg whites (don't worry if they aren't totally covered – you just want some nice patches of egg white here and there) and then in the bread crumb mixture. Lay them on a baking sheet and cook them for about 10 minutes, sprinkling with a little more cheese half way through.
Now cool them for about 5 to 10 minutes…just long enough so they don't singe your fingers when you pick them up…and there you have it. Asparagus dinner. I actually whipped up a little mustard mayo sauce to have on the side for dunking (the Southern husband is a big fan of both mustard and dunking) but we ended up not dunking any of them…they were just too plain scrumptious on their own. Once I realized he wasn't dunking, I knew I was home free.
Now, you should feel perfectly free to make these as an appetizer or a side dish (they would be pretty dang great alongside some buttermilk grilled chicken)…but trust me, you CAN get away with serving this for supper. Happy asparagus season.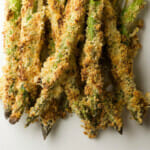 Honey Breadcrumb Asparagus Recipe
---
Yield:

Serves 4-6 as a side dish, or two for supper!
Ingredients
2 pounds asparagus, trimmed (use thick asparagus)
Coarse salt and fresh ground pepper
1 1/2 cups freshly grated parmesan cheese
1 cup panko bread crumbs
1 1/2 tablespoons melted butter
1/4 teaspoon cayenne pepper
2 large egg whites
1 teaspoon honey
---
Instructions
Preheat oven to 450. Line a rimmed baking sheet with foil.
Poke holes in each asparagus with a fork and toss with 1/2 teaspoon salt. Drain for 30 minutes on paper towels.
Combine one cup parmesan, break crumbs, 1/2 teaspoon pepper, red pepper and butter in a shallow bowl.
Whip egg whites and honey in a mixing bowl until egg whites form soft peaks. Transfer to a 13×9 inch pan.
Roll each asparagus stalk in the egg whites (don't worry if they aren't totally coated), and then roll them gently in the bread crumb mixture, patting the bread crumbs along the stalk. Transfer to the foil-lined baking sheet.
Bake asparagus for 5 minutes. Sprinkle with remaining 1/2 cup asparagus and bake for another 4-5 minutes until cheese and crumbs are a golden brown.
Cool for about 5 minutes and serve.
Adapted a little bit from Cooks Country