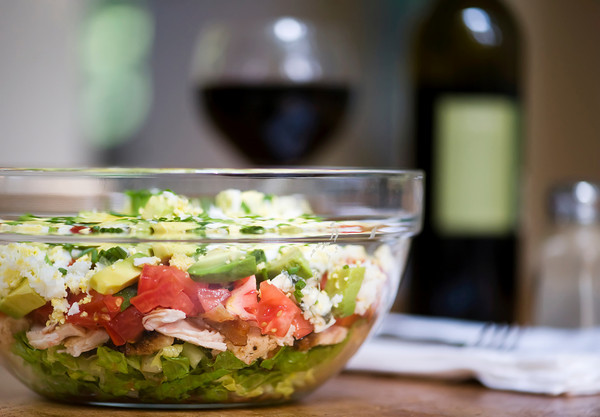 First of all, does anyone else have the same Cobb Salad thing going on that I do? Cobb Salad is actually not all that exotic…it's lettuce and cheese and tomato and blue cheese and bacon and hard boiled eggs and sometimes some other stuff. There's a restaurant I go to that does a lobster cobb salad that I sometimes actually dream about. But at the end of the day, it's a pretty straightforward dish, so I'm not sure what pulls me to it like a magnet. (It could be the bacon, of course. Just a guess.)
At any rate, while I am a person that likes their Cobb Salad mixed together (it is usually served with all the ingredients separated out in nice organized lines on your plate), I do like the way this one starts out looking. You of course need a nice clear bowl to get the effect of the layers. The Southern husband knows that one of the ways to my heart is to buy me Pyrex bowls (yep, that just the kind of wild and crazy girl I am), and he recently got me some nice big ones. And they needed a proper breaking in.
And so…layered Cobb Salad! Dig in.
Print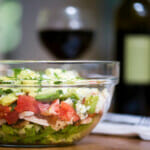 Layered Cobb Salad
---
Yield:

4-6 servings
Ingredients
3 tablespoons red-wine vinegar
1 tablespoon fresh lemon juice
2 teaspoons Dijon mustard
1 small garlic clove, minced
1/2 teaspoon salt
1/2 teaspoon sugar
1/4 teaspoon black pepper
1/2 cup extra-virgin olive oil
3 skinless boneless chicken breast halves, cooked and cut into one inch cubes. (I like to grill them, but baking or poaching in water will work just fine.)
2 avocados, pitted and cut into cubes
1 head romaine, cut into bite sized pieces
6 bacon slices, cooked until crisp, drained, and chopped
3 medium tomatoes (3/4 pound), seeded and cut into 1/2-inch pieces
3/4 cup crumbled Roquefort cheese
2 hard-boiled large eggs,cut into small pieces
1/4 cup finely chopped fresh chives
---
Instructions
Whisk together vinegar, lemon juice, musatrd, garlic, salt, sugar and pepper in a bowl, then add oil in a slow stream, whisking until fully combined.
Spread romaine over bottom of a 6- to 8-quart glass bowl and top with an even layer of chicken. Sprinkle bacon over chicken, then continue layering with tomatoes, cheese, avocados, eggs, and chives.
Just before serving, let everyone admire your layered bowl! Then give the dressing one more whisking, pour dressing over salad and toss. Serve at once.