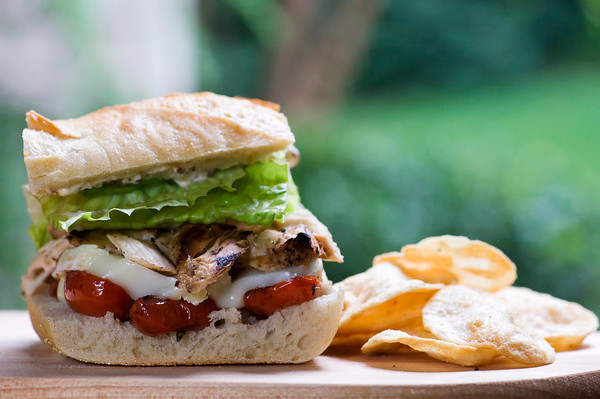 Oh my goodness, this sandwich.  It's the kind of sandwich that is a perfect combination of leftovers that you might have hanging around in your kitchen…leftover chicken, the end of a head of lettuce, a few cherry tomatoes, the last of a hunk of Brie…but I will tell you right here and now, it's completely worth running out to get all of those things just to take that first perfect bite of shredded chicken, sweet tomato, creamy cheese and crisp lettuce, all held together between two pieces of crusty French bread.
I always toss an extra piece or two of chicken on the grill whenever it is chicken grilling time just to have a reason to make this sandwich.  The little bit of char on the chicken takes the taste of it over the edge right into heaven.  And because cherry tomatoes taste terrific all year long, this is one that you can make right after you crank up the grill for the very first time this season…no need to wait impatiently for those big guys to get ripe.  Those tomatoes are going to get even better once you saute them on the stove with a few herbs and spices and a little vinegar…mmm,mmmm, mmmmmmmm.
After that, all that stands between you and sandwich perfection is the assembly.  A little mayo/mustard on the bread, those sweet and soft tomatoes, then the cheese, then the chicken, and top it all off with the lettuce of your choice (I like romaine.)  Breathe in and out deeply, and take that first bite.  Now THAT'S a sandwich.
If you have any leftovers of the sandwich insides – the tomatoes, the brie and the chicken – I've always thought it would make a great thing to toss with some hot pasta.  Personally, I've never had any leftovers…but if you do and you try the pasta approach, let me know!
Print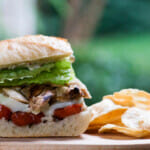 Chicken and Brie Sandwich with Roasted Cherry Tomatoes
---
Yield:

6 sandwiches
Ingredients
1 teaspoon olive oil
2 cups halved cherry tomatoes (about 1 pound)
2 tablespoons balsamic vinegar
1 tablespoon chopped fresh thyme
1/4 teaspoon kosher salt
1/8 teaspoon black pepper
1/2 cup low-fat mayonnaise
2 tablespoons whole-grain Dijon mustard
1 garlic clove, minced
1 loaf French bread, cut in half horizontally
3 ounces Brie cheese, sliced
3 cups shredded grilled chicken breast
2 cups romaine lettuce leaves
---
Instructions
Heat 1 teaspoon oil in a large nonstick skillet over medium-high heat. Add tomatoes; cook 4 minutes, stirring once. Remove from heat; stir in 2 tablespoons vinegar. Sprinkle tomatoes with thyme, 1/4 teaspoon salt, and pepper. Set aside.
Mix mayonnaise, mustard, and garlic in a small bowl and spread mixture evenly over both inside halves of the bread.
Spoon tomatoes evenly over bottom half of loaf. Arrange Brie over tomatoes, chicken over Brie, and top with lettuce. Place top half of loaf over all and cut loaf into 6 pieces.