This slow cooker brownie pudding cake recipe is warm and wonderful melt in your mouth delicious! Yes, dessert from the slow cooker – it's true!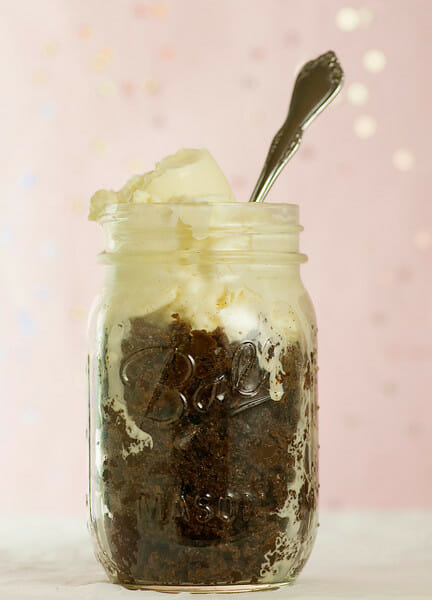 Oh, this cake. Oh, this cake. Oh, oh, oh, this cake. How do I love thee? Let me count the ways.
You make it in the slow cooker, so you can start it in the morning, forget about it, and have a mind-blowing dessert that cooks itself and stays warm and perfect until you are ready for it.
It makes enough for a crowd, even when that crowd includes various teenagers who are home from college and apparently had nothing to eat between when they left and when they came home. Can you spell R-A-V-E-N-O-U-S
It is a warm, creamy, cakey brownie-meets-pudding-meets-cake chocolate explosion of happiness
If you top it with vanilla ice cream, which will start melting into a cream sauce the second it hits the warm cake, you will never want to eat anything else again as long as you live. Even bacon. Yes, I just said that.
Now, just a little bit on how I got that photograph up there. While you can serve this in any old dish you want, I love serving it in mason jars with long iced tea spoons. You get the best ice cream meltage that way as it dribbles its way down and through the cake, and for some unknown reason I love eating things out of jars. (Please click here for the shrimp version of this strange yearning.)
This slow cooker brownie pudding cake recipe is warm and wonderful melt in your mouth delicious!
Click To Tweet
Now, for me, the two hardest things to photograph are glass (so hard to deal with the light reflections), silverware (same reflection thing) and ice cream (ice cream does not sit around and wait while you fiddle with the shot. It just goes ahead and melts.)
So I set up all my lights and backgrounds and carefully put the cake in the jar and positioned it, all of which took a good hour or so. And then I added the ice cream and photographed the thing, which took a hair-raising 30 seconds until the ice cream was in full-throttle melting mode. Just a glimpse into the relaxing life of someone who spends her time photographing food. It was basically a 21st century kitchen version of the Keystone Kops for a while there. The Southern husband made out okay though.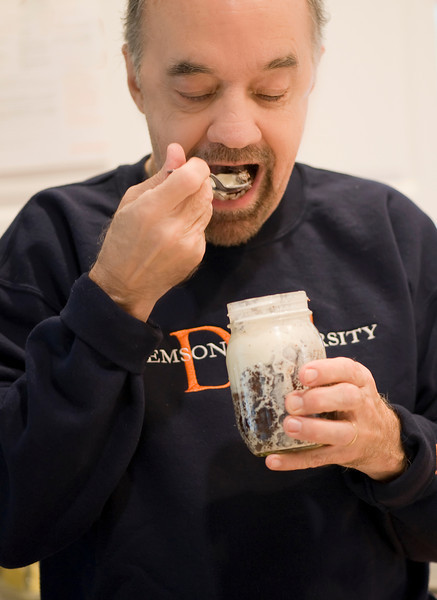 It's always useful to have someone around who is willing to scarf down the model after it has its picture taken.
So the next time you need a perfectly easy, perfectly delicious, perfectly chocolatey dessert…brownie pudding cake in the slow cooker. And you thought your slow cooker was just for dinner!
Print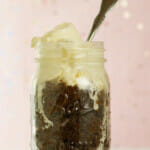 Slow Cooker Brownie Pudding Cake
---
Yield:

12 servings
Ingredients
One 18.5 ounce box chocolate cake mix
One 3.9 ounce package instant chocolate pudding
2 cups sour cream
4 eggs
3/4 cup vegetable oil
1 cup hot water
2 teaspoons vanilla extract
Vanilla ice cream
---
Instructions
Put cake mix, pudding mix, sour cream, eggs, oil, vanilla and water in mixing bowl. Mix at low speed for 30 seconds until combined, and then raise speed to medium and beat for two minutes, scraping the side of the bowl as needed.
Spray the inside of a 4-6 quart slow cooker with cooking spray and pour the batter into the slow cooker.
Cover the cooker and cook on low setting for 6-7 hours until the cake is a little puffy. (NOTE: Some of the newer model slow cookers seem to cook this cake faster than the older models, so if you have a newish slow cooker check your cake after 4-5 hours or so to see if it is done.)
Scoop the warm cake with a spoon into serving dishes and top with ice cream (I like serving it in mason jars.)