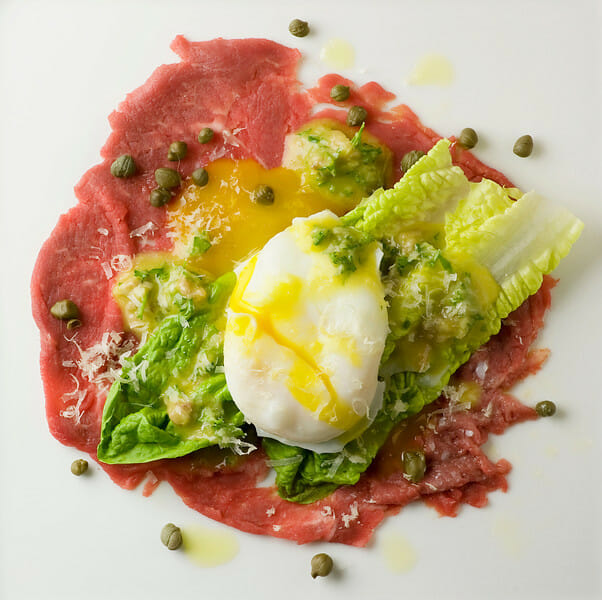 Okay, I admit that I was a little afraid to put this one on the blog. Carpaccio is, after all, raw meat or fish that is pounded super-thin and served, well, raw. And much as I love it, I know not everyone is a fan of raw stuff, and so I went through the same thing I went through with my tuna tartare bites (another raw thing)…I hemmed and hawed and finally asked my Facebook readers, who voted 100% yes. So here I am with a little carpaccio for you.
Now, carpaccio is mainly served as an appetizer, but this one is so rich and wonderful that we usually have it for dinner and are perfectly happy and satisfied. To make four of these, you need only one wonderful round filet mignon steak. We get ours at Costco – they have fabulous steaks there. Slice it into four even rounds, and then here comes the fun part. Put each round between two slices of wax paper, get out your handy meat pounder, and pound it until it is almost as thin as tissue paper. Don't worry if it rips a little here and there – that adds to the interesting look of the whole thing.
Now all you have to do is make a quick dressing of garlic, anchovies, oil, egg yolk, parmesan cheese and mustard and poach a few eggs. Do the dressing first, and then use my fool-proof method for egg-poaching: bring a pan of water to a simmer. Break each egg into a separate teacup, and slip each one carefully into the water. Cover the pan, turn OFF the heat, move the pan off the burner and let them sit for exactly three minutes. When three minutes are up, you will have perfectly poached eggs with nice soft and creamy insides. It took me forever to figure out how to poach eggs this way, but I finally got it, and it works!
Now assemble your carpaccio as follows: Drizzle the beef rounds with a teeny bit of oil from the anchovy can. Scatter some capers on top, and top with a few romaine lettuce leaves. Put an egg on the top of the lettuce and break it so the yolk spreads out. Sprinkle some fresh parmesan on top, grind a little fresh pepper on top, and serve to the brave raw food eaters in your house.
And for those of you non-raw-food eaters, here's my recipe for Zucchini Carpaccio that I love just as much…nothing raw included except for squash! I'll be back again next time with something cooked, I promise!
Print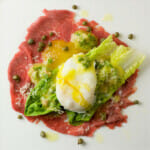 Filet Mignon Carpaccio with Mini Caesar Salad and Poached Egg
---
Ingredients
One round 7 ounce beef filet mignon
4 eggs
Small romaine lettuce leaves, cleaned and separated
1 tablespoon capers
1/4 cup fresh grated parmesan, plus extra for garnish
1 clove garlic, minced
3 anchovies, plus oil from the anchovy can
1 teaspoon Dijon mustard
1/4 cup olive oil
Juice from one lemon
1 egg yolk
Coarse salt and fresh ground pepper
2 tablespoons fresh parsley
---
Instructions
Cut filet into four equal rounds. Place each round between two pieces of wax paper and pound until it is as thin as tissue paper. Place on four separate plates and put in refrigerator while preparing the rest of the dish.
Make dressing by combining parmesan, garlic, anchovies and mustard. Mash together with a fork until anchovies are paste-like. Whisk in egg yolk, lemon juice and then olive oil. Stir in parsley, season with salt and pepper and set aside.
Poach eggs until just done – you want the yolk to still be runny.
Assemble as follows: drizzle the pounded filets with a little anchovy oil from the can. Scatter capers on top. Lay the romaine leaves on top of the filets and place an egg on top of each. Break the egg so the yolks runs over the filet, drizzle with dressing, garnish with a little of the extra parmesan and pepper and serve.
Recipe adapted from Moore to Food