This easy recipe for Butterfinger truffles takes one of your favorite candy bars and turns it into sweet chocolate truffles. A perfect little sweet snack!
Okay, let me just tell you now that this recipe is messy. I'm talking melty sticky chocolate all over your hands, cocoa powder all over your counter messy. I'm talking finding chocolate splotches on your arm hours after you make them messy. I'm also talking totally, mindblowingly, chocolate heaven delicious messy. Chocolate all over the place? Once you taste these babies? You. Will. Not. Care.
So, one would think that glorious chocolate truffle wonderfulness comes from ooh-la-la fancy chocolate, and yes, I did use my favorite Ghiradelli chocolate in this recipe. But the REAL fabulous comes from just where you think it does. From these.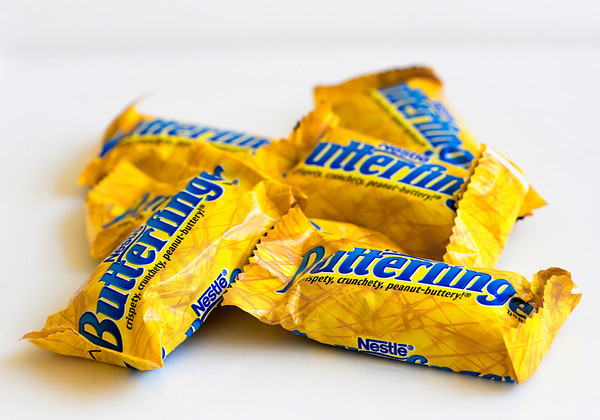 I love you, little crispety, crunchety, peanut-buttery mini Butterfingers. I do. And I particularly love any recipe that requires me to buy a bag of mini Butterfingers and then calls for using all of them but, oh, six or eight. Thereby leaving me to figure out what to do with six or eight leftover mini Butterfinger bars.
Eating mini Butterfinger bars always makes me feel like Halloween. And thinking about Halloween always reminds me of when I was about 6, and my mama spent ages hand-making me a sunflower costume. Ingrate that I am, I really, really wanted one of those polyester princess costumes that came in a box at Woolworths, complete with a plastic mask with an elastic band. (Sorry Mom!)
But no, I was a sunflower, and of course I wore my costume to school with all the other kids that day. When it came time for roll-call, the teacher said that instead of saying "Here," we should make the sound of whatever we were dressed up as.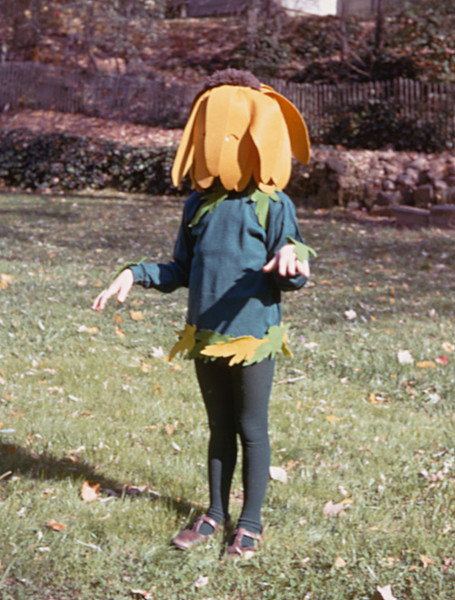 Um.
Anyway, apologies for telling a Halloween story in March, but I was overcome by the mini Butterfingers. Back at the recipe, this one calls for semisweet chocolate, a little butter, some cream, chopped up Butterfingers (woot!), some unsweetened cocoa powder, and if you want a cute little garnish, some salted peanuts.
You're going to put the chocolate and the butter in a large bowl. Bring the cream to a boil, and then pour it over the chocolate butter mix. Give it a minute, and then stir it up. It will stir into a glorious creamy bowl of melted chocolate. Stir in the chopped Butterfingers and put the bowl in the fridge for a few hours to solidify a little.
When you're ready to make the truffles, put the cocoa powder in a small bowl. Get out a cookies sheet and spread some foil on it. Rip off a cookie sheet sized piece of plastic wrap or wax paper and put it on the counter. If you have a small cookie scoop or a melon baller it will work great for this next step; if not, grab a teaspoon.
Now working as quickly as possible, scoop out teaspoonful-sized pieces of the chocolate mixture and drop them on the plastic wrap. Do this until the bowl is half empty and pop the bowl back in the fridge.
Here comes the messy part…take each scoop of truffle mix, roll it quickly between your palms until it is kind of round (don't worry about getting them too perfect), drop it in the cocoa powder, roll it until it is covered in cocoa powder and then put it on the cookie sheet. Keep going until the first half of truffles are finished.
Your hands are going to be COVERED in chocolate, there will be cocoa powder all over your counter and under your nails, and honestly, the best thing to do is to keep smiling and pray that the phone doesn't ring. When you are done with the first half, rinse off most of the chocolate, dry your hands, go get the bowl out of the fridge and repeat. (The reason we are breaking this into halves is so that the chocolate doesn't get too soft.)
Once all your little truffles are obediently on the cookies sheet, you can take peanut halves and push them gently into the top of each one. Or not. That is totally up to you…they will be great either way.
Now put the cookie sheet back into the fridge and give the truffles another couple of hours to harden up a little. They will always be a soft-ish truffle, but they will harden up enough to eat while only getting a little cocoa powder dust on your lucky fingers.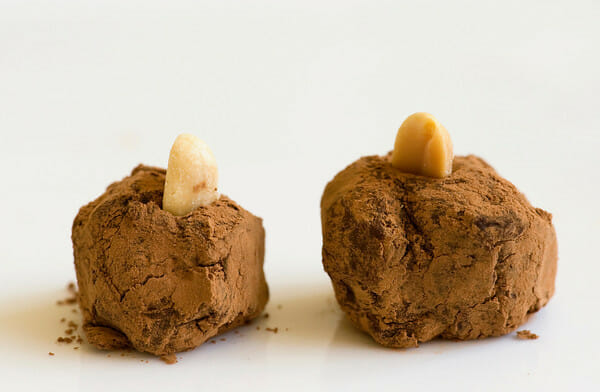 If there are any left over, store 'em in the fridge. And when they are totally gone, you still have the leftover Butterfingers to console you.
Print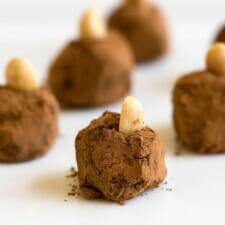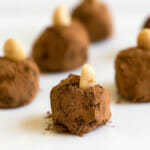 Butterfinger Truffles
---
Author:

Prep Time:

20 minutes

Total Time:

20 minutes

Yield: About

60

truffles

1

x
Category:

Dessert

Method:

Stovetop

Cuisine:

American
Description
This easy recipe for Butterfinger truffles takes one of your favorite candy bars and turns it into sweet chocolate truffles. A perfect little sweet snack!
---
Ingredients
10 ounces

chopped semi-sweet chocolate (I recommend Ghiradelli!)

1 tablespoon

butter

1 cup

heavy cream

1 1/2 cups

chopped Butterfinger (about

8 ounces

worth)

1/4 cup

unsweetened cocoa powder
Salted peanut halves (optional)
---
Instructions
Put chocolate and butter in a large mixing bowl.
Heat cream to boiling (really boiling, not just simmering) and pour it over the chocolate. Wait one minute and stir until the chocolate is melted and the whole mixture is fully combined. Stir in chopped Butterfinger and refrigerate until solidified, about two hours.
Line a cookie sheet with foil and place a cookie sheet sized piece of plastic wrap or wax paper on the counter. Put the cocoa powder in a small bowl.
Scoop out teaspoonfuls of the chocolate mixture and drop on the plastic wrap until the chocolate mixture bowl is half empty. Replace bowl in the fridge.
Roll the truffles between your palms quickly until roughly round. Drop in in cocoa powder and roll until they are coated, and then place them on the cookie sheet. When you are finished with the first half, rinse your hands and then repeat with the second half of the truffle mixture.
If you want some extra peanut goodness, gently push a peanut half into the top of each truffle for garnish, then put the cookie sheet in the fridge for another few hours until the truffles harden a little. Store in fridge before and after serving.