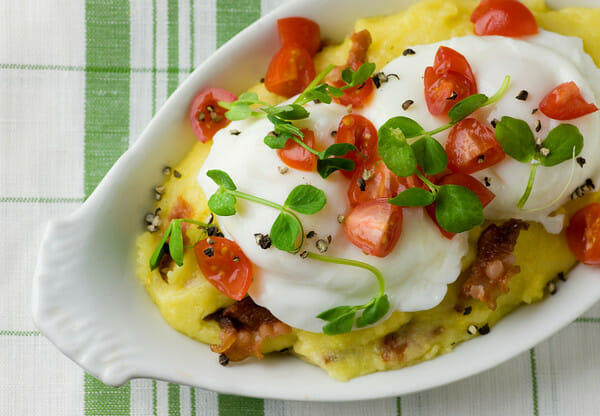 We all know how much I love bacon. (If you don't, please check the Recipe Index on this very blog. My categories are: Appetizers, Breakfast and Brunch, Lunch, Dinner, Veggies, Desserts…and Glorious Bacon. And poached eggs are right up there on my list of favorite, favorite, favorite foods. So it was only a matter of time before I figured out a way to put these two faves together in one place…but I didn't want it to be plain old poached eggs with bacon. (Not that there is anything wrong with plain old poached eggs and bacon. If anyone wants to come over and make me plain old poached eggs and bacon right now, I'm home.)
So while I was pondering this, my mom and dad took a trip out to Lancaster County in Pennsylvania, and knowing my love and devotion to bacon, they stopped at S. Clyde Weaver's store and got me some of the good stuff. Thick, glorious bacon. The kind you can smell right through the waxed paper wrapping and you immediately know you are in for some sheer bacon happiness. They also stopped at a farm market and brought me a bag of sweet, tiny, tender pea shoots, because my mama knows I love that kind of thing. And then, just like that, it all came together in my mind.
I cooked up a pot of polenta, which is basically cornmeal whisked into salted boiling water and simmered until it is thick and smooth. While the polenta was cooking, I cooked a few strips of the bacon in the oven and then chopped them up into pieces, and then I poached a few eggs and cut up some cherry tomatoes. And then away we went…When the polenta was ready, I stirred in some butter and the bacon, and spooned it into individual serving dishes. I made two little dents in each bowl of bacon polenta and laid an egg in each one (Laid an egg! Get it?? Sorry.) Then I spooned on some cherry tomatoes, some of the pea sprouts, and some cracked black pepper and a teeny bit of coarse salt. If you break the poached eggs right away, the yolk will melt into the bacon polenta, and oh, my my my.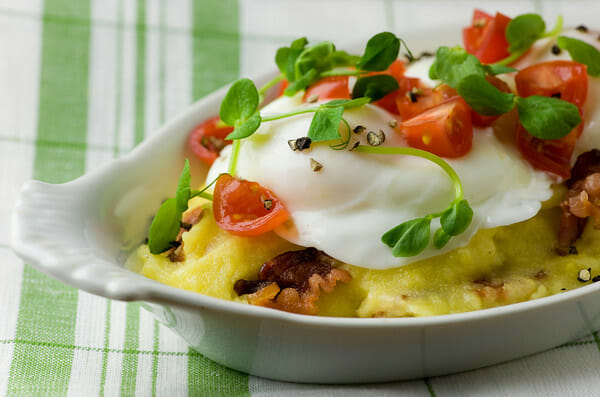 Now, unless you are passing by that same farmer's market, pea shoots might be hard to come by, but any little green will be fine. I'm going to try chopped frisee lettuce next time, but a few baby spinach leaves or even a scattering of parsley will do just fine. The sweetness of the tomatoes will offset the salty bacon polenta, and the creamy poached egg….well, you get my drift, right? I'm considering eating this and only this for the rest of my life. (I wonder if there is enough bacon in the world for that?) Here's the recipe, including my almost foolproof method for making poached eggs!
Print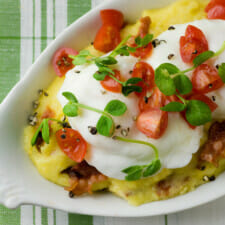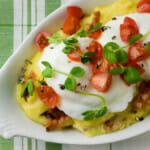 Poached Eggs with Bacon Polenta and Cherry Tomatoes
---
Prep Time:

15 minutes

Cook Time:

15 minutes

Total Time:

30 minutes

Yield:

4

servings

1

x
Category:

Dinner

Method:

Stovetop and Oven

Cuisine:

American
Ingredients
4

strips bacon

4 cups

water

1 1/2 teaspoon

salt

1 1/2 cups

fine cornmeal

2 tablespoons

butter

8

eggs

1 cup

chopped cherry tomato

1/4 cup

chopped baby greens or herbs of your choice
Coarse cracked pepper
Coarse salt
---
Instructions
Preheat oven to 425. Lay bacon on a rimmed baking sheet and cook until just crispy, about 10-12 minutes. Drain on paper towels and cut or tear into small pieces.
Heat water in a medium saucepan to boiling. Add salt, and then pour cornmeal slowly and steadily into the water, whisking as you go. Lower heat to simmer and cook until thickened. Depending on the cornmeal you use, this can take anywhere from 5 to 15 minutes.
While the polenta is simmering, fill a deep skillet with water and bring to a boil. Break your eggs into teacups or small bowls (do this beforehand and yes, use 8 cups – you are going to want to get your eggs into the water as quickly as possible). Slip the eggs from the teacups into the water, cover the skillet, turn OFF the heat under the skillet and leave them in there for exactly three minutes. After three minutes, scoop them out with a slotted spoon and put them on a plate.
When polenta has thickened, stir in butter and bacon and divide among individual bowls. Make two dents in the polenta in each bowl and place a poached egg on each dent. Scatter tomatoes, greens and cracked pepper on top of each bowl. Sprinkle a tiny bit of salt on top of each and serve immediately.