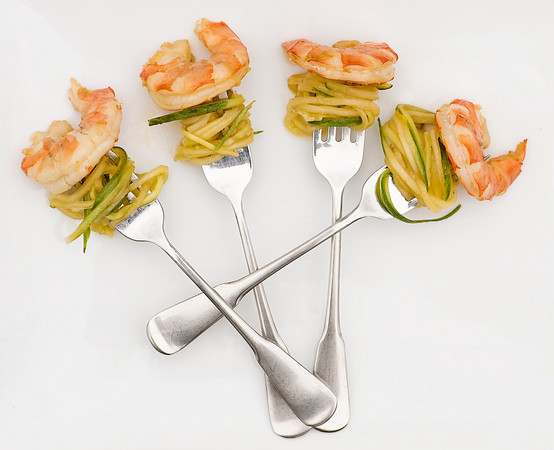 Okay, before I start going on and on about this recipe, which I think I might make over and over and over until the Southern husband pleads for mercy, I need to take a couple seconds to vent about my food photography.
Usually thing go this way: I make whatever it is I am making, and somewhere in the back of my mind as whatever it is starts coming together, I am thinking about the shot. And most of the time I have one particular approach in mind. Sometimes it works…sometimes it is a disaster….but regardless of how it turns out, I know what I was TRYING to do, picture-wise.
However. There are also days where I know there is a pretty picture in here somewhere, but honestly? I have no clue how to get it. So I try a little bit of this and a little bit of that, while the Southern husband gets hungrier and hungrier and starts eating pretzels and checking out the dog's kibble. These are the days I tend to end up with nothing…but sometimes I end up with two totally different shots that I actually really like. And so it starts. Which one to use? Do I use the cool artsy one at the top of this post? Or do I use this one?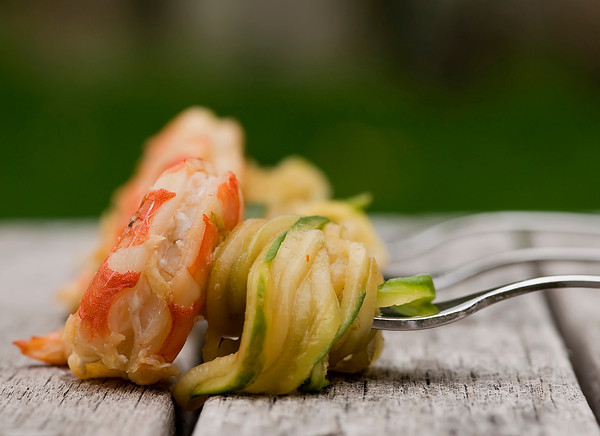 Dilemmas, dilemmas.
In the meantime, let me tell you about this fun recipe, which is actually meant to be an appetizer but which we happily ate for dinner as part of our Friday Night Lights series. And let me start by saying there are no actual noodles involved – those scrumptious noodle-like things you see in both pictures are…wait for it…made out of cucumber. You start by cutting long thin strips of cucumber, which you could do with a plain old kitchen knife if you have steady hands and patience, but I used my new mandoline, which is a jiffy slicing device that will cut an ordinary looking English cuke into noodle-shaped slices in about 3 minutes. While you are slicing, simmer up some shrimp with a little lemon and salt until they are just done, and then let them cool. Now marinate your shrimp and the cucumber noodles in an easy little marinade of sesame oil, soy sauce, garlic, lime and red pepper. This is going to make your shrimp taste like heaven, and make your cucumber noodles as soft and pliable as linguine.
Now comes the fun part. Take a fork and twirl the noodles around it, and then spear a shrimp on the end. Repeat until all your shrimp are used, and then arrange them in some sort of dramatic fashion on a plate. It's one of those show-stopper kind of appetizers that will make you ridiculously happy.
Until you start trying to take its picture. So…let me know which one you like better, picture-wise. I'm pretty sure you are going to like how it tastes. 🙂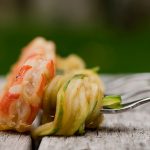 Marinated Shrimp with Cucumber Noodles
---
Yield:

About 18 shrimp and cuke skewers
Ingredients
2 English cucumbers
3 tablespoons kosher salt
1 lemon, halved
1 pound large shrimp, peeled and deveined
3 tablespoons soy sauce
1 tablespoon sesame oil
1 tablespoon fresh lime zest
1 tablespoon fresh lime juice
1 teaspoons fresh grated ginger
1 minced garlic clove
1/4 teaspoon cayenne pepper
18 chilled forks
---
Instructions
Slice cucumber into long noodles, using a mandoline and being Very Very Careful!!
Bring a large pot of water to a boil. Squeeze the juice from the lemon halves into the water and then drop in the lemons and add the salt. Add the shrimp and cook until firm, about 2 minutes. Remove from the water and set aside.
Combine soy sauce, oil, lime zest and juice, ginger, garlic and cayenne in a large bowl. Add shrimp and cucumber noodles, tossing to coat thoroughly. Refrigerate for at least 30 minutes.
Twirl a few cumber noodles on each chilled fork and spear a shrimp on the end. Serve immediately.
Marinated Shrimp with Cucumber Noodles, adapted from Taste of the South