You don't have to pick between all your favorite flavors when you make this easy recipe for chocolate bacon peanut bark! It's a bacon infused, chocolate lovers, peanutty candy extravaganza!
I am one of those people whose birthday falls right around the holidays, which means that the second half of December is a wonderful cascade of cards and presents and birthday lunches and Christmas dinners and other wonderfulness.
It's non-stop merriment from December 15 until the beginning of January, when I wake up and realize that I need to go on a steady diet of soup until my Levis fit again. But for those several weeks, I am showered with all sorts of fun goodies. And this year, many of them fell into a sort of familiar pattern.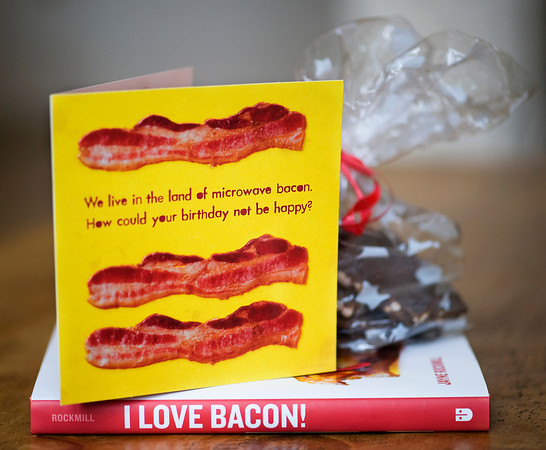 I have no idea why.
Okay, maybe I might have mentioned once or twice that I love bacon.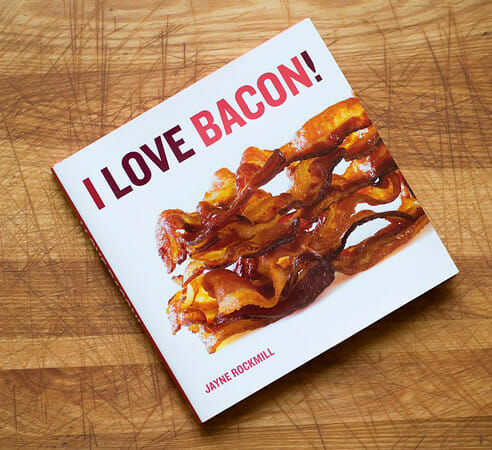 That might be why one sweet friend gave me this cookbook entitled I LOVE BACON. She is not the kind of no-holds-barred bacon lover that I am, and she is a regular at my house for dinner, so I take this as a sign of true love. Because you KNOW I'm going to be making pretty much everything in that book.
I also got a big bag of heaven.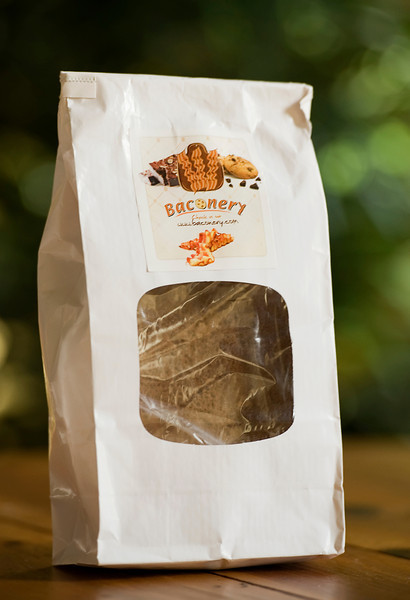 And by heaven, I mean gingerbread with millions of teeny pieces of bacon in it. The gingerbread was shaped into little pig shapes…which is kind of like chocolate Easter bunnies, where you feel bad for about 2 seconds that you are biting off their ears. And then you bite off their ears.
It comes from a site called Baconery. They have bacon cookies. They have bacon brownies. They have bacon candy. They have a Facebook page and a Twitter account and an Iphone app. Their slogan is "Life Is Better With Bacon." I'm a goner.
And the bacon fabulousness did not just revolve around cooking it and eating it. Nope.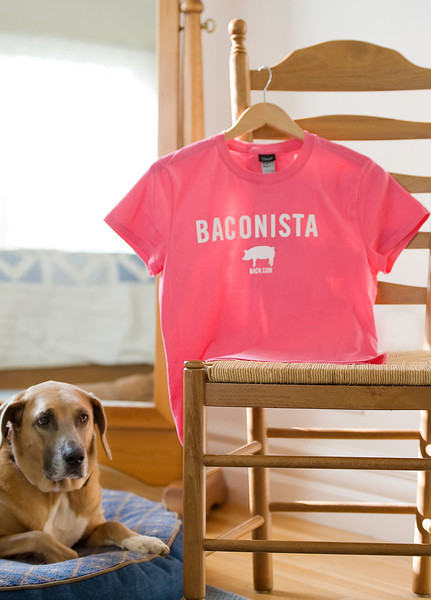 I can also wear it. Just like Lady Gaga, only not as sticky. This one is from a site called Bacn. They also have bacon costumes…just something to keep in mind for next Halloween.
So getting to that bowl of deliciousness that was the first picture of this post…one of my gifts was in this nice little bag.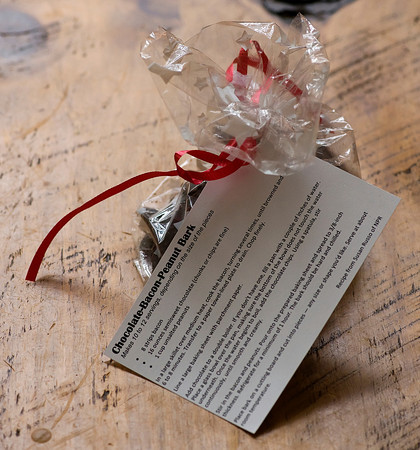 And it came with a recipe!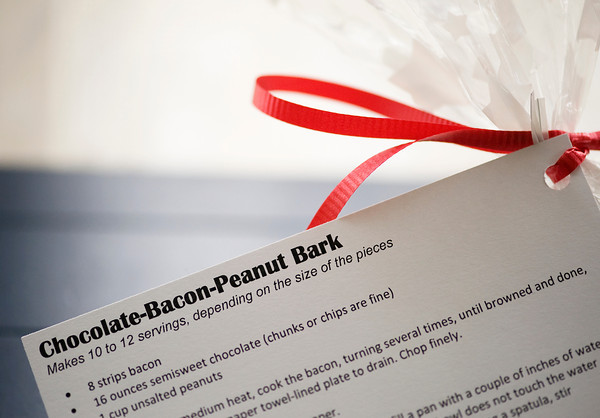 A recipe that calls for just three ingredients…chocolate, peanuts, and…well, you know.
On the day that I got this scrumptious bag, the wonderful maker of this deliciousness gave bags to a few other people too. People that I spoke to later in the day. Or rather, people that I tried to speak to, because I would call them up and they would answer the phone sounding something like this:
Them: Huh-whoa?
Me: Are you eating something?
Them: Yeth..can't shtop eating this chocowhat bacon schtuff!
It's that good. You can't stop eating it. Let's just say I didn't share. And I'm not sharing my shirt either, so get your paws off please.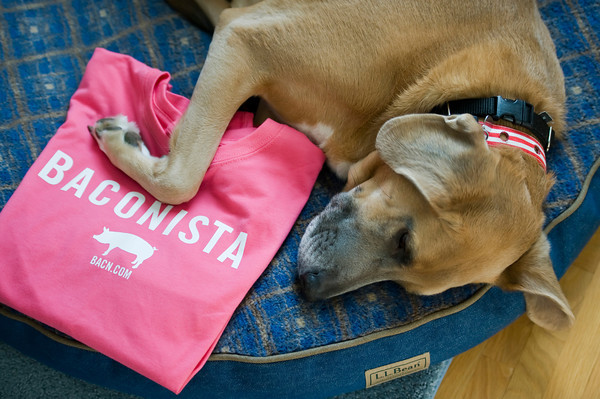 I will share my ever so slightly tweaked version of the recipe though! Happy bacon.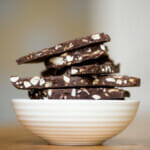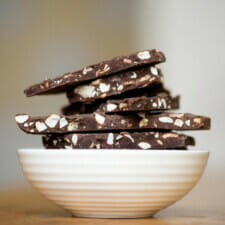 Chocolate Bacon Peanut Bark
---
Author:

Prep Time:

10 minutes

Cook Time:

10 minutes

Total Time:

20 minutes

Yield:

20

pieces

1

x
Category:

Dessert

Method:

Stovetop

Cuisine:

American
Description
You don't have to pick between all your favorite flavors when you make this easy recipe for chocolate bacon peanut bark! It's a bacon infused, chocolate lovers, peanutty candy extravaganza!
---
Ingredients
8

strips bacon

16 ounces

semisweet chocolate (chunks or chips)

1 cup

unsalted peanuts
---
Instructions
Preheat oven to 400. Place the bacon on a foil-line rimmed baking sheet and cook until crispy, about 10-12 minutes. Transfer to a paper towel-lined plate to drain. Chop finely.
Line a second large baking sheet with parchment paper.
Add chocolate to a double boiler. If you don't have one, fill a pan with a couple of inches of water. Place a glass bowl over the pan, making sure the bottom of the bowl does not touch the water underneath.
Once the water begins to boil, add the chocolate chips. Using a spatula, stir continuously until smooth and creamy.
Stir in the bacon and peanuts. Pour onto the prepared baking sheet and spread to 3/8-inch thickness. Refrigerate for a minimum of 1 hour. The bark should be hard and chilled.
Place bark on a cutting board and cut into pieces — any size or shape you'd like. Serve at room temperature.
Recipe from
Susan Russo at NPR