Pasta Carbonara takes on a whole new meaning with the addition of a few wonderful extra ingredients. Hello loaded pasta carbonara!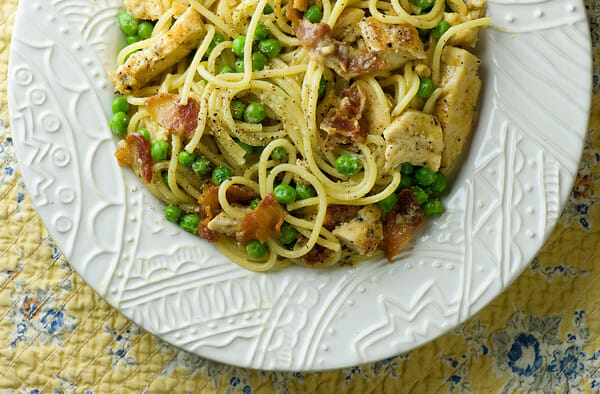 So, a couple of weeks ago, when it was still, just for the record, OCTOBER, we lucky citizens of the Northeastern part of the United States got treated to a rare mid-autumn snowstorm. Which meant my backyard, which is supposed to look like this….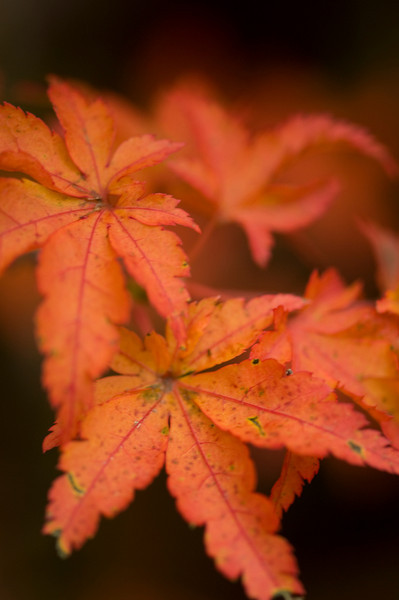 Instead looked like this.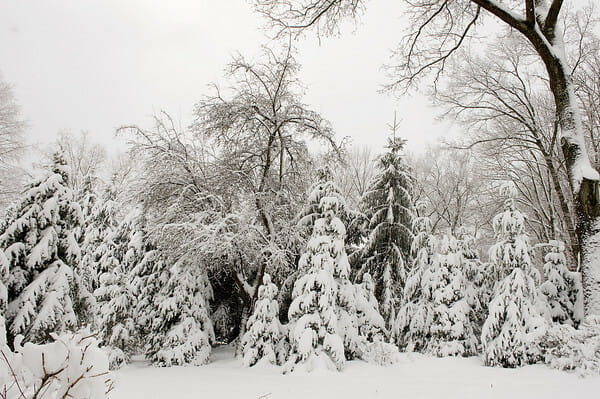 A fall snowstorm is even crazier than one that happens at the appropriate time of year (which would be WINTER, Mother Nature), because all those lovely autumn leaves turn into snow-catching cups. Which meant that the beautiful orange and red and yellow trees started struggling under all the extra snow. Branches started dropping, trees started falling, power lines went down, and everyone hunkered down inside to wait it out.
Which was nerve-wracking enough, but to make matters worse, it happened on a Saturday. Supermarket Day in my house is Sunday, and Saturday is usually go-out-to-dinner night…but not this Saturday, for obvious reasons. So what did I have hanging around that could be thrown into an October snowstorm supper? Something that relied totally on the gas stove, in the event of power failure?
I had eggs. I had pasta. I had a lone frozen chicken breast, and a bag of frozen peas. I had bacon. I had a hunk of Parmesan cheese.
I was ready for loaded carbonara! Which is basically your regular carbonara – pasta, eggs and bacon – but with extra of chicken and peas and parmesan cheese and a little white wine. You cook the bacon first, and then the chicken cooks in the bacon, and well, you can just imagine the rest.
Take that, inappropriate October snowstorm!
Print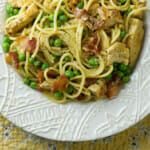 Loaded Pasta Carbonara
---
Prep Time:

5 minutes

Cook Time:

25 minutes

Total Time:

30 minutes

Yield:

6

1

x
Category:

Dinner

Method:

Stovetop

Cuisine:

American
Ingredients
4

boneless, skinless chicken breasts (about

1 1/2

pounds)
Salt and pepper

6

slices bacon, chopped

3

large eggs

1 ½ cups

Parmesan cheese

½ cup

white wine

1

pound spaghetti

2 cups

frozen peas
---
Instructions
Bring 4 quarts water to boil in large pot. Pat chicken dry with paper towels and season with salt and pepper. Cook bacon in large skillet over medium heat until crisp, about 8 minutes. Transfer bacon to paper towel-lined plate.
Cook chicken in 1 tablespoon fat in now-empty skillet until well browned and cooked through, about 5 minutes per side. Transfer to cutting board and tent with foil. Let rest 5 minutes, then slice crosswise into thin strips and reserve.
Whisk eggs and cheese in medium bowl. Heat now-empty skillet over medium heat until shimmering. Add 1 teaspoon pepper and cook until fragrant, about 30 seconds. Stir in wine and simmer until thickened, about 2 minutes. Slowly whisk wine mixture into egg mixture.
Add 1 tablespoon salt and pasta to boiling water and cook until al dente. Reserve 1⁄2 cup cooking water. Place peas in colander, drain pasta, and transfer pasta and peas to pot. Stir in chicken, egg-wine mixture, and bacon, adding reserved water as needed. Serve at once.