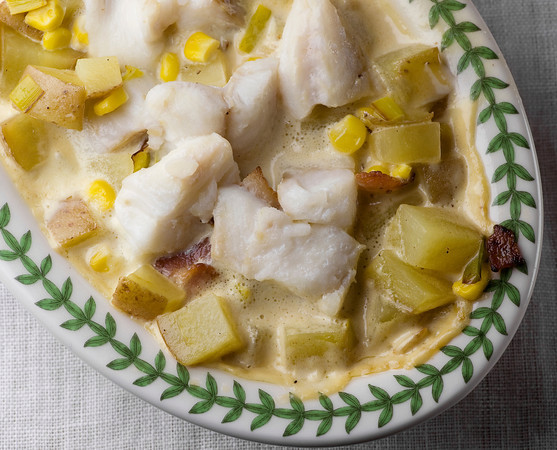 Okay, full disclosure…a version of this post first appeared on the fabulous website Jersey Bites. A while ago they asked me to be one of their contributing editors, which means I get to ramble away not only here at Framed Cooks but also on their site as well, and if you haven't visited Jersey Bites, go pay them a call. Even if you aren't from New Jersey, because they have some great recipes and other stuff that pretty much works worldwide.
On to this chowder bake…I don't know how it happened, but it's fall-turning-quickly-into-winter in the Garden State. Some plants in my herb garden are bravely holding on, but the basil is now just a dim memory. The leaves are drifting down, the heat is kicking on at night, and I'm pulling out my sweaters. But hey, as long as I've got my Snuggie, I can deal with the cold weather. It means butternut squash, football games…and SOUP! I love my soup recipes with a passion, especially those that are thick with chunky ingredients that make them completely acceptable as dinner. And anything that has the word "chowder" in it…well, it basically has me at hello.
This quick and easy chowder is kind of a cross between a soup and a casserole…it starts out on the stovetop, but you finish it up in the oven, and it's the perfect comfort food for those chilly evenings when it starts to dawn on you that this really MIGHT be the year that you get your holiday shopping done before the very last second. (This dawns on me every year, and one year it will actually happen. I'm sure of it.) I make this one in individual oven-safe dishes so everyone has their own delicious portion. If you put a napkin on your regular plates and then put the baking dish on top, it won't slide around or damage your nice tabletops. Just make sure you warn your lucky fellow eaters (especially the kiddos) that the serving dishes are hot!
Come and get me, winter!
Print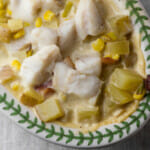 Chowder Bake
---
Ingredients
6 strips bacon, diced
2 leeks (white and light green parts), chopped
1 pound Yukon gold potatoes, cut into 1/2-inch dice
1 1/2 cups corn kernels, fresh (from 3 ears) or frozen
1/3 cup dry white wine
1 1/4 cups heavy cream
kosher salt and black pepper
1 pound cod (skinless), cut into 2-inch pieces
2 cups oyster crackers
---
Instructions
Heat oven to 400° F. In a large saucepan, over medium-high heat, fry the bacon until almost crisp. Spoon off and discard all but 1 tablespoon of the drippings.
Add the leeks and cook, stirring occasionally, until tender, about 3 minutes.
Add the potatoes, corn, wine, cream, 1 teaspoon salt, and ½ teaspoon pepper. Bring to a boil.
Transfer to an 8-by-11-inch baking dish or shallow 2-quart casserole. Nestle the cod pieces in the potato mixture. Top with the crackers. Cover loosely with foil.
Bake until the fish is cooked through, about 20 minutes.