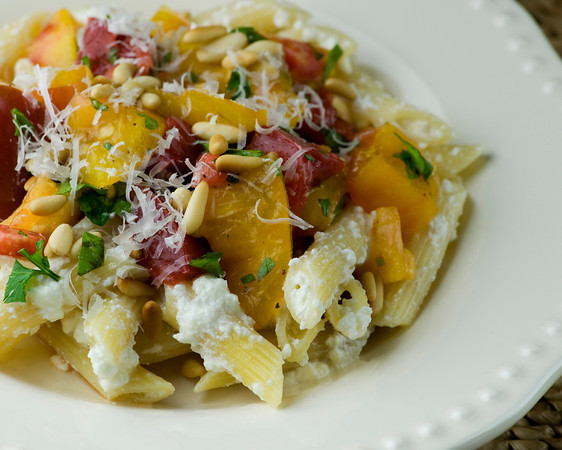 Okay, so I haven't mentioned the word "ricotta" in WEEKS now, and it's time.  We're also rapidly coming to the end of fresh tomato season, and I especially hate to say goodby to the heirloom tomatoes – those funky-colored, lumpy, delectably delicious guys that are just plain summer in tomato form.  They come in red of course, but also yellow, purple, striped – you name it.  And they have an amazing sweet taste that is just addictive.  If you've been passing those heirloom tomatoes by, now is your chance to give a strange-looking tomato a break…and this is a fun and fast recipe to try it with!
All you do is chop up a few of those tomatoes (I like to mix up different colors) and let them sit in a lovely bath of olive oil, lemon juice, salt and pepper, and whatever conglomeration of fresh herbs you like.  While the tomatoes are resting in this wonderfulness, cook up a pot of penne pasta, toast a handful of pine nuts, and get some fresh ricotta and grated parmesan cheese ready to roll.
When the pasta is done, save a little of the water and toss the pasta with the ricotta, the parmesan and enough of the saved pasta water to make a nice creamy sauce.  Now mix in the tomato mixture, sprinkle in some pine nuts, toss a little more grated parmesan on top, and go eat it outside on your picnic table while you still can.  Summer, you go so fast….
Print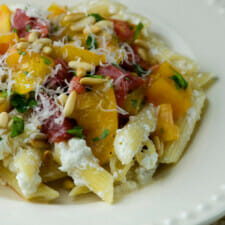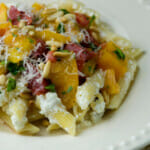 Pasta with Heirloom Tomatoes
---
Prep Time: 15 minutes
Cook Time: 10 minutes
Total Time: 25 minutes
Yield: Serves 2 as a main course and 4 as an appetizer 1x
Category: Dinner
Method: Stovetop
Cuisine: Italian
Ingredients
1 pound heirloom tomatoes, cut into chunks
1/2 cup fresh herbs, chopped (basil, parsley, thyme and even mint work wonderfully!) plus extra for garnish
1 tablespoon fresh lemon juice
2 tablespoons olive oil
8 ounces penne or other short pasta
2 tablespoons pine nuts or chopped walnuts, toasted lightly
1/2 cup fresh ricotta
1/4 cup grated Parmesan, plus extra for garnish
---
Instructions
Place tomatoes, herbs, lemon juice and olive oil in a large bowl. Let it sit for an hour at room temperature.
Cook the pasta according to the package directions, saving a cup or so of pasta water when you drain it. Return the pasta to the pot.
Add the cheese to the pasta, and drizzle in enough pasta water to make a light sauce (you probably won't need all of it. Season to taste with salt and pepper.
Add the tomato mixture and gently toss. Sprinkle with nuts, a little Parmesan and some fresh herbs and serve!