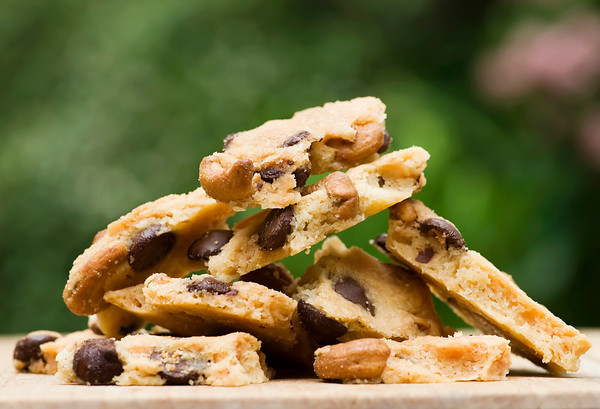 There is something about the words "cookie" and "brittle" that just mesmerize me. Throw in "chocolate" and "cashews" and I am helpless…I walk directly into my kitchen and start making it. Luckily for me it was somebody's birthday (I won't say whose birthday in order to protect the innocent), and so right after they were ready I put them all in a nice gift basket and whisked them out of the house.
Well, maybe not ALL of them. Maybe I held back just a few. Purely in the name of science, and chocolate, and cookie brittle.
Here's what you need to know: this is basically a spin on chocolate chip cookie dough, but because of the particular mixture of ingredients, it cooks up to be a little crunchier and more, well, brittle-like. Once you have mixed up all the ingredients you press it into one thin layer onto a foil-lined cookie sheet (the foil will both make the brittle pop up easily and if you are really lucky, save you from washing the cookie sheet. Things like that are my goal in life. Less cookie-sheet-washing.
Make sure you make the brittle as thin as you can – the thinner it is, the more glorious it will be.
Press press press. Then pop it into the oven and cook it up until it is a beautiful golden color. Now comes the hard part…waiting until it is perfectly, totally cool before you break it up into brittle pieces. After about 45 minutes I couldn't stand it anymore and I put it into the fridge, which cooled it right down. Now lift the up the mass of brittle and start breaking it up into whatever size pieces you like.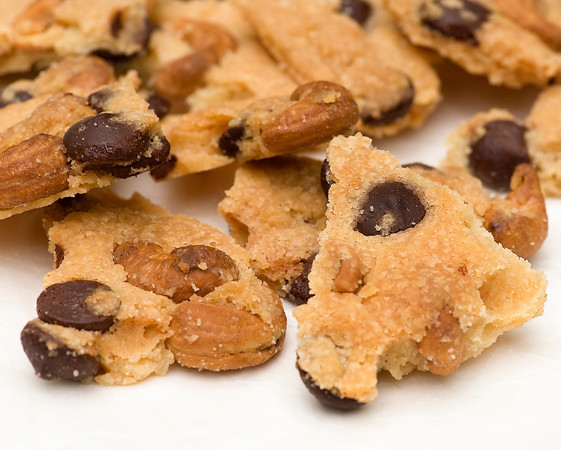 After which you can give it away, keep it for yourself, or split the difference. Just make sure you try at least one. Or ten.

Print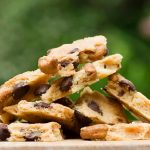 Bittersweet Chocolate and Cashew Cookie Brittle
---
Ingredients
1 cup unsalted butter, melted and cooled
2 teaspoons pure vanilla extract
1 cup sugar
1 teaspoon salt
2 cups all-purpose flour
1 cup unsalted roasted cashews
1 cup bittersweet chocolate chips
---
Instructions
Preheat the oven to 350 degrees and set a rack to the center position. Pour the melted butter into a large bowl, and stir in the vanilla.
With a wooden spoon (or your hands, if your prefer), add the sugar, salt and flour and mix to combine–the mixture will be somewhat crumbly, like a moist pie dough.
Stir in the nuts and chocolate chips. Press the mixture in a thin, even layer onto an ungreased cookie sheet (use the chocolate chips as your guide–try to get them in as close to a single layer as possible throughout the dough, and you'll have the right thickness). You may not fill the entire sheet with the dough–that's okay.
Bake for 23-25 minutes, until light golden brown (the edges will be a bit darker than the center). Let cool completely before breaking into whatever sized pieces you desire. Store in an airtight container at room temperature.
Recipe from Piece of Cake, who got it from The American Country Inn and Bed & Breakfast Cookbook, Volume II