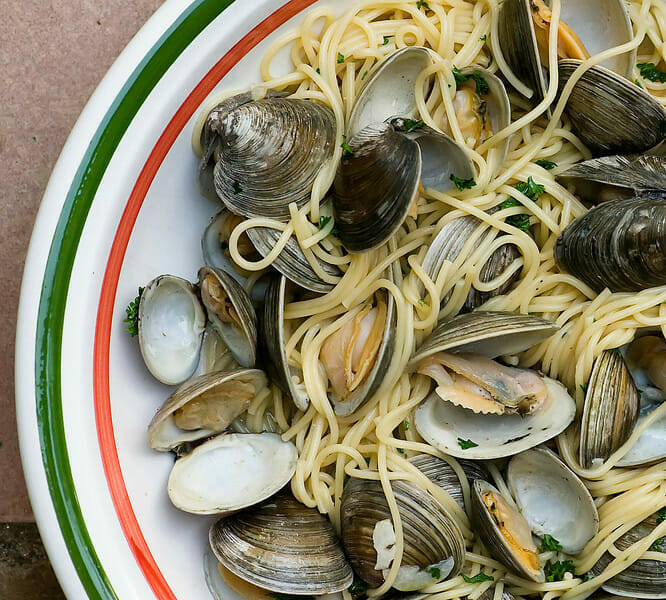 Now that the wonderful new Bon Appetit has shown me the light in terms of cooking pasta (click here for this new approach to pasta and sauce…it's life-changing) I am now going back to my old faves to try it out on them.  And one of my old fave is absolutely pasta with fresh clam sauce.  Briny, garlicky, slightly peppery sauce, with fresh clams.    I used littlenecks, but you can use manila clams as well.  You can apparently also use cockles.  (I wouldn't know a cockle if I bumped into one on Fifth Avenue, but if you do, then just know you can use 'em in this recipe.)
So, the basic concept is the same.  Cook your pasta…but not all the way.  Drain it when it still has about 2 minutes to go (and save some of the pasta water for later in the recipe).  Meantime, cook up your sauce…in this case you saute up some sliced garlic in olive oil, add some white wine and then steam your clams in this fabulous mixture until they open up.  Once they do, take out the clams with tongs and put them in a bowl. 
Now crank up the heat under that sauce and add a little pasta water…and add your almost cooked pasta.  It's going to finish cooking in this sauce, and while it's doing that it will absorb some of the sauce as it goes.  Oh yes. 
In the meantime, you can be heating your serving dish and/or your plates in a 200 degree oven.  I love doing this with pasta – the heat of the plate will keep your dinner nice and warm all through the meal.  In this case, I chose this particular serving bowl.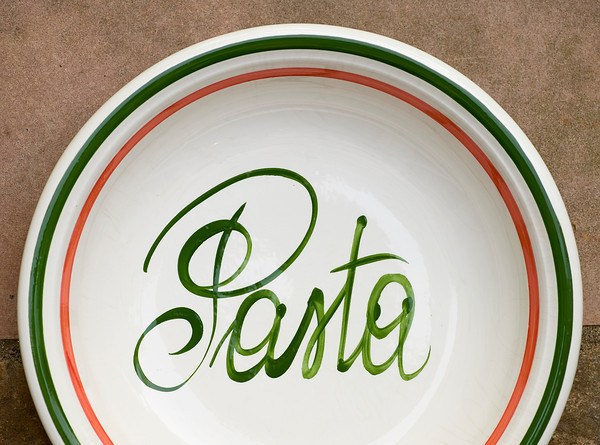 This bowl keeps me on the straight and narrow at the end of a long day, when I sometimes find myself standing in the kitchen thinking, now what was I doing again?
Oh yes.  Pasta.  Once the pasta is cooked, pour the entire thing into your warm serving bowl.  Add the cooked clams with any juices and toss it just a little to mix it all up.  Sprinkle some fresh chopped parsley on top, and drizzle just a teeny bit of olive oil over the whole thing.
I'm never going back, pasta-wise. 
Spaghetti with Fresh Clams recipe (also known as Spaghetti Alle Vongole) with hugs and kisses to Bon Appetit 
Print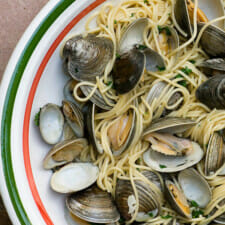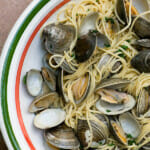 Spaghetti with Fresh Clams
---
Prep Time:

5 minutes

Cook Time:

15 minutes

Total Time:

20 minutes

Yield:

2

servings

1

x
Category:

Dinner

Method:

Stovetop

Cuisine:

Italian
Ingredients
Kosher salt

6 ounces

spaghetti

4 tablespoons

extra-virgin olive oil, divided

1

garlic clove, thinly sliced

1 tsp

. crushed red pepper flakes

1/4 cup

white wine

2

pounds cockles, Manila clams, or littlenecks, scrubbed

2 Tbsp

. roughly chopped fresh flat-leaf parsley
---
Instructions
Bring 3 quarts water to a boil in a 5-quart pot. Season lightly with salt; add pasta and cook, stirring occasionally, until about 2 minutes before tender. Drain, reserving 1/2 cup pasta cooking water.
Meanwhile, heat 3 tablespoons oil in a large skillet over medium heat. Add garlic and cook, swirling pan often, until just golden. Add red pepper flakes and continue cooking 15 more seconds. Add wine, then clams; increase heat to high. Cover skillet and cook until clams open and release their juices, 3-6 minutes, depending on size of clams. As clams open, use tongs to transfer them to a bowl.
Add 1/4 cup of the reserved pasta water to skillet; bring to a boil. Add pasta to pan. Cook over high heat, tossing constantly, until pasta is al dente and has soaked up some of the sauce from the pan. Add clams and any juices from bowl to pan, along with parsley, and toss to combine. (Add more pasta water if sauce seems dry.) Transfer pasta to warm bowls and drizzle with remaining oil.