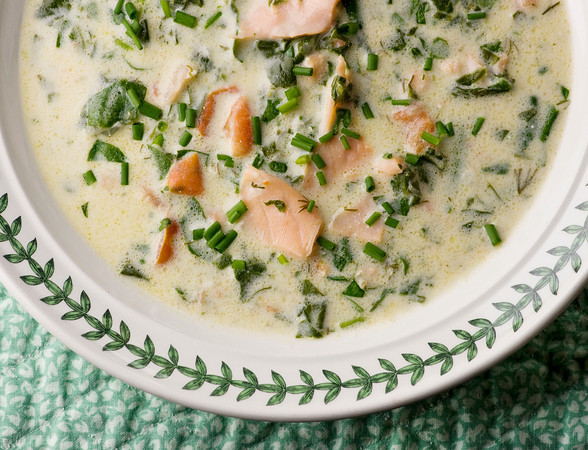 I know, I know, this is a weird one, but work with me here and imagine this. You know how sometimes you have a bagel, and you spread it with vegetable cream cheese? Cream cheese that has been mixed up with chopped veggies like spinach, maybe a little tomato, maybe some chopped onion, maybe some herbs like chives and dill? And then you top it with a little bit of lox or smoked salmon? (Digression: can someone tell me if lox and smoked salmon are the same thing? I should know, but I don't.)
Anyway, imagine that…still with me? Now, take that scrumptious bagel topping and (work with me here), imagine it as a warm and creamy soup. The cheese is all melted and smooth and creamy, the veggies are cooked and mixed throughout the cheese, the herbs are sprinkled throughout, and in the midst of all of this are pieces of salty, delicious smoked salmon. And if you still aren't convinced (and the Southern husband wasn't when I first mentioned I would be making this for dinner), see if this helps: this recipe is from the always fabulous SILVER PALATE GOOD TIMES COOKBOOK.
Now, the Silver Palate and I can't BOTH be wrong, can we? We can't. Just ask the Southern husband, who after having it for dinner is now hoarding the leftovers for his lunch tomorrow. That's the true test if you ask me…leftover hoarding.
Give it a try and see what you think!
Smoked Salmon Cream Cheese Soup, adapted from SILVER PALATE GOOD TIMES COOKBOOK
Print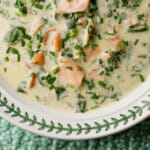 Smoked Salmon Cream Cheese Soup
---
Ingredients
3/4 stick butter
1 1/2 cup chopped onion
3/4 cup chopped fresh dill
2 ripe tomatoes, seeded and chopped
8 ounces smoked salmon, cut into 1 inch pieces
2 tablespoons flour
8 cups water
fresh ground pepper, to taste
2 cups fresh spinach, washed and chopped
2 eight ounce packages cream cheese, sliced into 8 pieces each
1/3 cup vodka
2 tablespoons fresh lemon juice
Snipped fresh chives, for garnish
---
Instructions
Melt butter in medium size saucepan over medium heat. Add onion and saute until soft, about 10 minutes.
Stir in dill, tomatoes and salmon and cook 3 minutes. Add flour and cook 1 minute more. Gradually stir in water and heat to boiling. Reduce heat and simmer for 20 minutes.
Season with pepper, stir in spinach and simmer 5 more minutes. Now stir in cream cheese, one piece at a time, allowing each piece to melt into the soup. When all the cheese is added and the soup is smooth, stir in the vodka and lemon juice. Taste for seasonings, and ladle into bowls. Garnish with chives and serve.