Chocolate, peanut butter and pretzels…the perfect holiday treat! Whip up a batch of these chocolate pretzel bites for someone special on your list.  And a second batch just for you, because I know you have been Very Good all year long!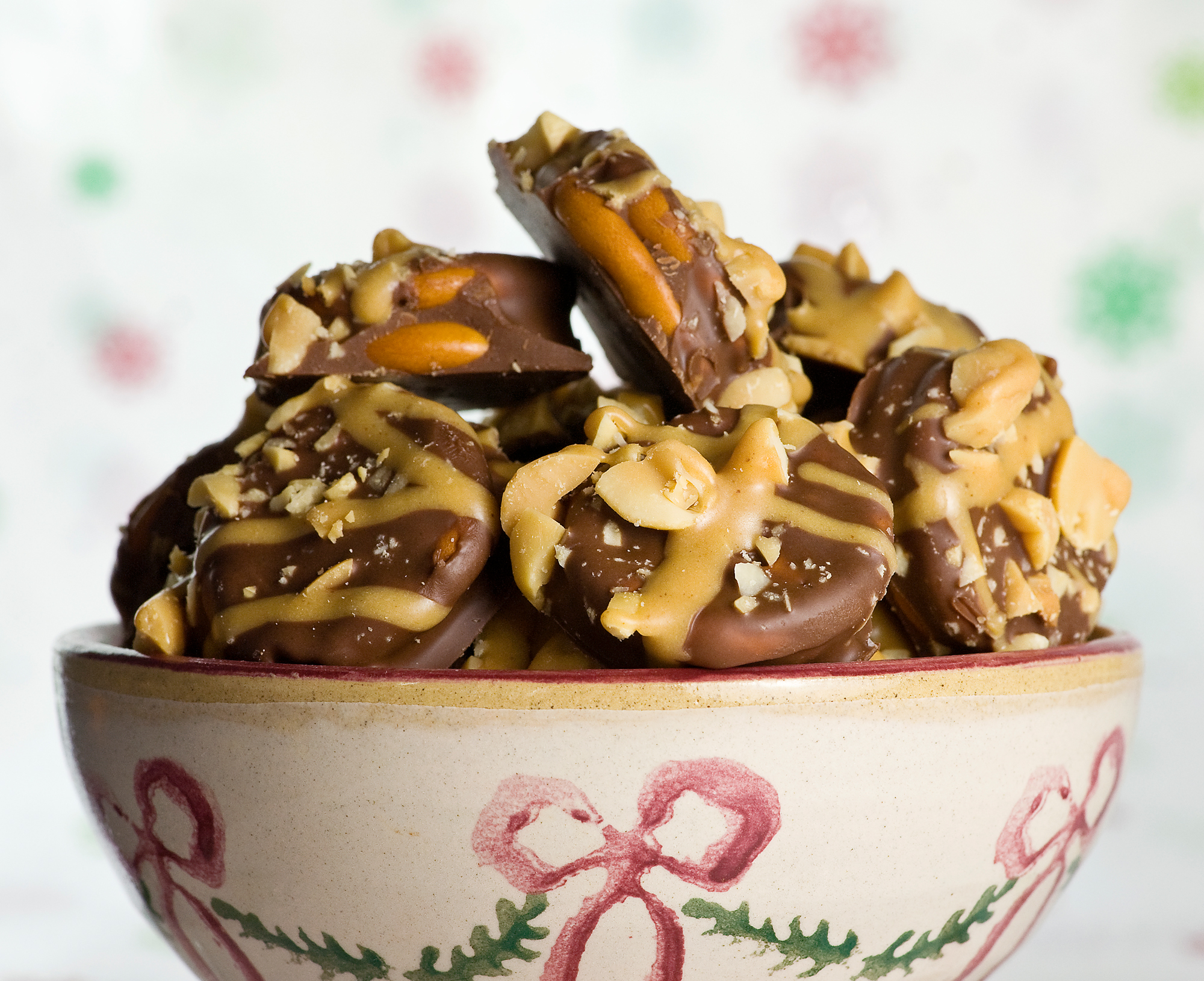 I've been happily cooking away for days now testing holiday "gifts from the kitchen" recipes." My kitchen is a cheery, sticky mess of sugar, chopped nuts, and more chocolate than the eye can see.
The Southern husband and the teenager keep drifting in and out to sample things, and I keep having to explain to the dog that, incredibly unfair as it may seem, dogs are not allowed to eat chocolate, even if it falls on the floor. Even if she is wearing a completely adorable Christmas collar with a jingle bell on it. Sorry, pooch.
And out of all of this merry chaos, out of all the sweet treats I have mixed up, this one is my hands-down favorite. Sweet and salty, peanut butter and chocolate, smooth and crunchy, this one could not be easier to make or more addictive to have on your counter. Or to have HAD on your counter, because the bowl I had on my own counter is now sadly empty.
Here's what you need:  A bag of what they call "fountain and fondue chocolate," and before you panic, they have giant bins of this stuff at Michael's craft stores. I bought several bags, just in case I can't stop myself from making MORE of these.  You can also get them online – here's a handy link.
You also need a couple of bags of those little pretzel peanut butter sandwiches (I used the Snyder's brand). Two 8 ounce bags, and again, if you don't see them in the snack aisle of your grocery store you can get them at this link.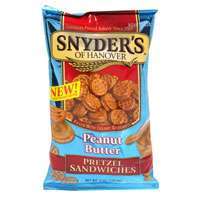 Plus peanuts, peanut butter chips, shortening and some bittersweet chocolate chips. 
Okay! You melt up the two chocolates in the microwave, and then dump in the pretzels. Swirl them around until they are good and coated with melted chocolate. Then scoop them out with a fork (which lets the excess chocolate drip off) and lay them in a single layer on cookie sheets that have been lined with wax paper.
Now sprinkle them with chopped up peanuts. So far so good…but there's MORE.
Melt the peanut butter chips with a little shortening in the microwave and pour it into a ziploc bag. Now snip a corner of the bag and drizzle the peanut butter mixture over the pretzels. Now pop them in the fridge until the chocolate is hardened and then break them apart.
You have now achieved perfect chocolate and peanut butter happiness. Now all you have to do next is decide: are you REALLY going to wrap them up and give them away?
I'll leave that entirely up to you.
Print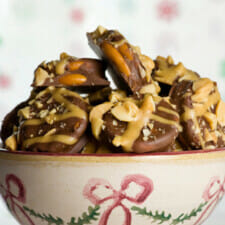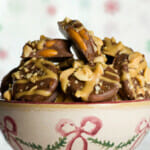 Chocolate Pretzel Bites
---
Author:

Prep Time:

20 minutes

Cook Time:

3 minutes

Total Time:

23 minutes

Category:

Snacks

Method:

Stovetop

Cuisine:

American
Description
Chocolate, peanut butter and pretzels…the perfect holiday treat! Whip up a batch of these chocolate pretzel bites for someone special on your list.
---
Ingredients
2 1/2 cups

fountain and fondue chocolate

3 ounces

bittersweet chocolate chips

2

eight ounce bags pretzel sandwich crackers

1 cup

chopped salted peanuts

3/4 cups

peanut butter morsels

1 1/2 tablespoons

shortening
---
Instructions
Microwave both chocolates in large bowl for 2-3 minutes or until melted, stirring at 1 minute intervals.
Pour pretzels into bowl of melted chocolate and stir gently until coated. Lift out with fork, allowing excess chocolate to drip off, and lay in single layer on cookie sheets lined with wax paper.
Sprinkle chopped peanuts over pretzels.
Melt peanut butter chips and shortening in microwave for 30 seconds or until chips are soft. Stir until smooth and spoon into ziploc bag. Snip tiny corner off off bag and squeeze peanut butter mixture over pretzels.
Put cookie sheets in the fridge until chocolate has hardened, about an hour. Break into pieces.