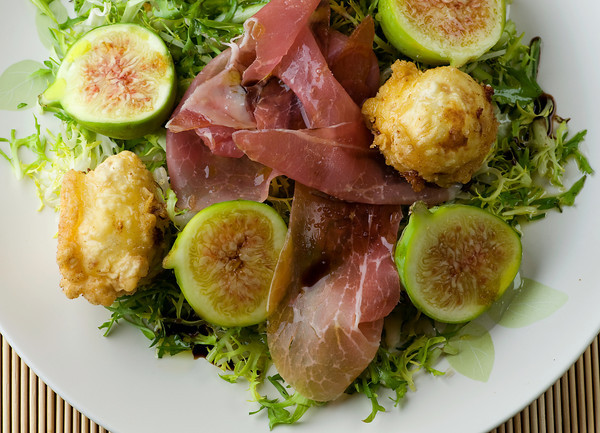 Okay, so I will tell you right now, this salad is a complete and total show-stopper. If you are looking around for a first course to make for the holidays, look no further…you're there. And best of all, it is super easy in addition to being one of the best things you will ever eat that doesn't involve either bacon or chocolate.
This recipe comes from a gorgeous new cookbook called The New Brooklyn Cookbook.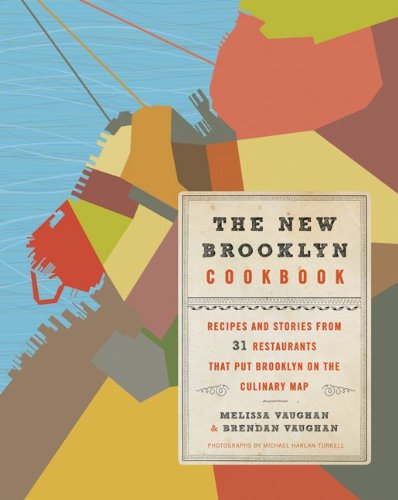 Some of my favorite people live in Brooklyn so I loved this cookbook at first sight, and once I found out the recipes were taken from some of the most fantastic restaurants in Brooklyn (Buttermilk Channel, I love you!!), I was in, and this was the very first recipe I tried from this book. Because among other things, it involves fresh figs, which are my current obsession.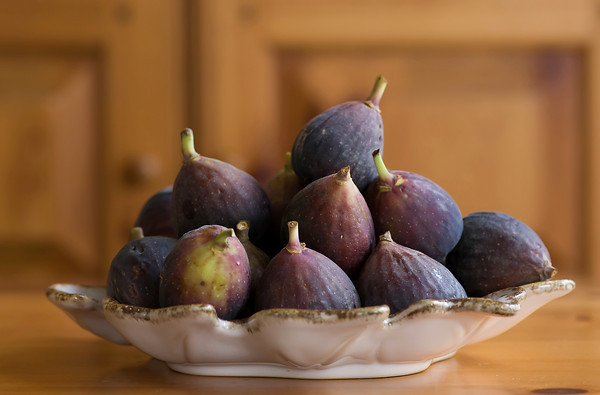 I did alter the recipe by adding a bed of chopped frisee lettuce, but that is because (after figs) frisee lettuce is my other current obsession. It's just so dang FANCY. You put a nice handful of it on a plate, and then grab a few of these babies.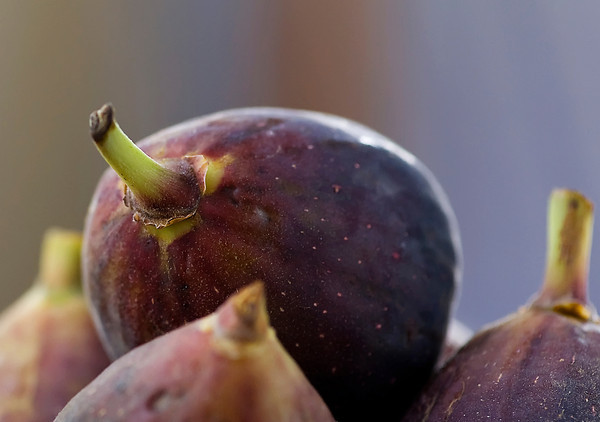 Chop them in half and pop a couple on the lettuce. Next, take a piece of thin-sliced prosciutto and lay it elegantly in the center. Now you are ready for the most dramatic part. Heat up some canola oil in a saucepan until it is nice and hot – you want it to be about 350 degrees. Roll up some soft goat cheese into one inch balls and stick them in the freezer while the oil heats up. When the oil is good and hot, take the cold goat cheese and dunk them in beaten egg and flour twice, and then drop them carefully in the hot oil. In about 3 minutes they will be golden brown…scoop them back out and put a couple on your plate. Last but not least, drizzle on some honey, some olive oil and just a tiny bit of balsamic vinegar.
Now serve it up and sit back while the rave reviews wash over you. Because they WILL. Thank you, New Brooklyn Cookbook!

Print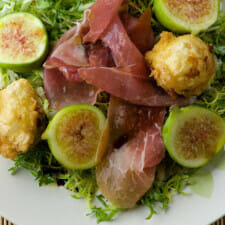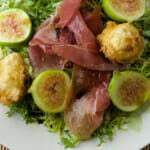 Fried Goat Cheese and Fig Salad
---
Prep Time: 15 minutes
Cook Time: 3 minutes
Total Time: 18 minutes
Yield: 4 servings 1x
Category: Lunch
Method: Stovetop
Cuisine: American
Ingredients
1 head frisee lettuce, washed and chopped
1 eleven ounce log goat cheese
Canola oil
2 large eggs, lightly beaten
1/2 cup flour
6 fresh figs, cut in half
4 thin slices prosciutto
Honey
Olive oil
1/4 teaspoon crushed red pepper flakes
---
Instructions
Roll the goat cheese into half-dollar sized balls and place on parchment-lined sheet. Put in freezer for 20-30 minutes.
Heat about 4 inches of oil in large deep pot until hot, about 350 degrees on a deep fry thermometer.
Place the eggs and flour in two separate bowls. Dip the goat cheese balls in egg, then flour, then egg again, then flour. Using a metal slotted spoon, carefully lower the cheese balls into the hot oil and cook until golden, about 3 minutes. Using the slotted spoon, gently remove and drain on paper towels.
Assemble the salad as follows: place a handful of frisee on each of four plates. Arrange figs, goat cheese and one slice of prosciutto on each plate. Drizzle with honey, a little balsamic vinegar and a little olive oil, sprinkle with red pepper and salt and serve.
Recipe adapted from the New Brooklyn Cookbook