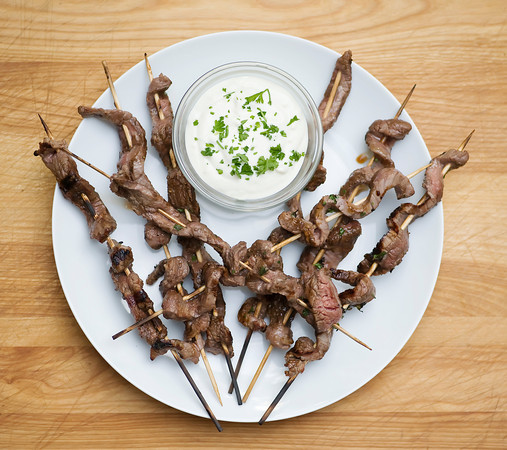 This is one of those great recipes that combines super-easy-to-make with super-fun-to-eat. I don't know about you, but for me, everything is better when it comes on a skewer. (Corn dog, anyone? Anyone?) This one involves threading very thin slices of flank steak onto wooden skewers. Make sure you soak the skewers really well in water before you start assembling them.
There is nothing sadder than watching your skewer go up in flames.
Anyway, once your steak skewers are assembled, give them a good seasoning with balsamic vinegar, coarse salt and fresh ground pepper, and lay them on the grill. It will take you only a few minutes to cook up these babies, depending on how rare or well-done you like them, and that's it! The blue cheese dip comes straight out of whatever your favorite fancy refrigerated blue cheese dressing is – I like Marie's Blue Cheese dressing which is usually in the produce section of my supermarket. Grind a little more pepper into the dressing, sprinkle some fresh parsley over the whole thing, and dinner is served. Or lunch. Or a really serious snack….
Steak Skewers with Blue Cheese Dip, adapted from Real Simple
Print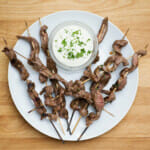 Steak Skewers with Blue Cheese Dip
---
Ingredients
1/2 pound flank steak
2 tablespoons balsamic vinegar
Salt and pepper
1/2 cup good quality blue cheese dressing
Chopped parsley
16 wooden skewers, thoroughly soaked in water
---
Instructions
Freeze steak for about 10 minutes (this makes it easier to cut). Slice very thinly against the grain into strips and thread onto soaked skewers
Brush with vinegar and season with salt and pepper.
Grill over medium high heat until cooked through, 1-2 minutes per side.
Put dressing in a small bowl and sprinkle with parsley. Serve at once.