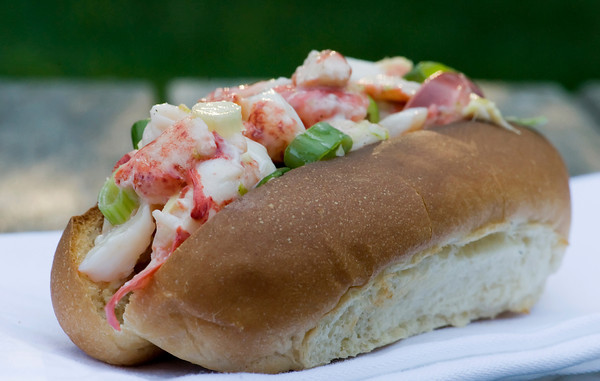 Yes, that is a good old-fashioned lobster roll in front of you, and it come from one of my new favorite cookbooks, STONEWALL KITCHEN FAVORITES. If you've been reading my blog for a while, you know that I would basically like to move into the Stonewall Kitchen and live there for the rest of my life. Click here for just a few of the many, many, many reasons why. At any rate, the folks at Stonewall Kitchen heard about my adoration and were nice enough to send me a copy of their amazing cookbook. First of all, the food photography made me both deliriously happy AND think I better practice a little more with my own Nikon. It's just glorious. And the recipes…every bit as wonderful as I hoped they would be.
And happily, I have one more of these fabulous cookbooks to give away!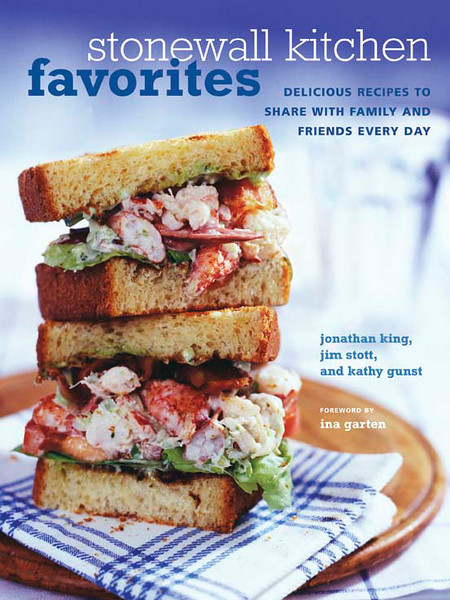 More info on how to enter for the giveaway at the bottom of this post…but first we must discuss the lobster roll, which (of course) came from this fabulous cookbook.
Among the many, many other talented things that the Southern husband does is keep an eye on all the various supermarkets in the area for when lobster goes on sale. We just LOVE lobster in this house (who doesn't?), but it does make me squirm a little when the price of cooking dinner starts rivaling the mortgage payment. So whenever he spots it on sale he makes sure to pick up a few of those babies, and to have have supermarket steam them up so they are cooked and ready for action. I have a few recipes that I go back to again and again that call for cooked lobster, but some days there is nothing like a good old-fashioned lobster roll.
Enter the Stonewall Kitchen Favorites, which has a lobster roll recipe that has now become my favorite lobster roll recipe of all time. It's light and creamy and classic and perfect. And EASY. You take a couple of lobsters-worth of lobster meat, tear it into bite-sized pieces, and mix it up with lime zest, lime juice, fresh ginger, chopped scallion and just the teeny-tiny-est bit of mayo.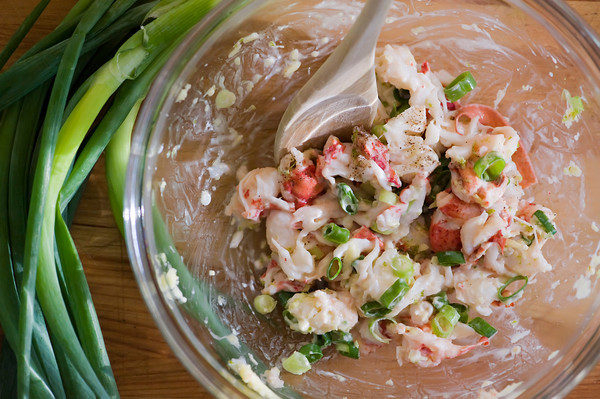 Then lightly toast a few hot dog rolls. In an ideal world, you will have top-split hot dog rolls (which are sometimes called New England-style. Why? I have no idea.). Butter them lightly, and then spoon the lobster salad into the rolls.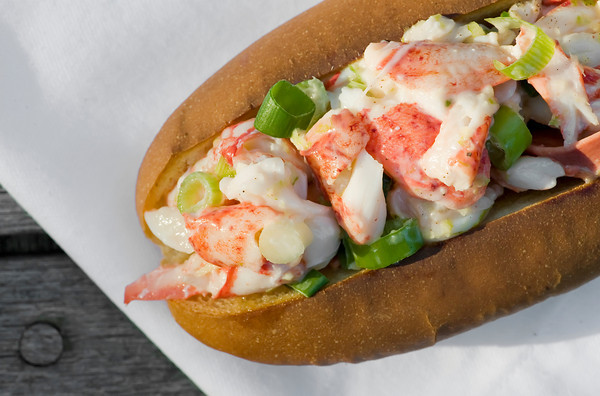 You have now pretty much achieved Lobster Roll Nirvana. It just doesn't get any better than this.
Recipe is below, but first the giveaway: I have one glorious copy of Stonewall Kitchen Favorites to give away to a lucky winner, and get this: it is also signed by the authors. All those spectacular recipes, and signed by the authors as well…it's almost as good as that lobster roll! Just leave me a comment on this post telling me your favorite summer recipe, and next Sunday I will pick one lucky, lucky recipient of this amazing cookbook. My beloved email subscribers, you can enter by clicking the post title, which will take you to the website where you can comment.
But first…lobster roll!
Lobster Rolls
, adapted from
Stonewall Kitchen Favorites
Print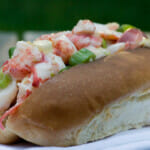 Lobster Rolls and a Cookbook Contest!
---
Ingredients
1 1/2 cups cooked lobster meat
1 teaspoon grated lime zest
1 teaspoon fresh lime juice
1 teaspoon grated, peeled fresh ginger
1 tablespoon mayonnaise
1 scallion, white and green parts, chopped
Salt and freshly ground pepper
Two hit dog buns, toasted and buttered
---
Instructions
Mix together the lobster, lime zest and juice, ginger, mayonnaise and scallion in a small bowl until well combined. Season to taste with salt and pepper.
Serve in a lightly toasted and buttered hot dog bun.