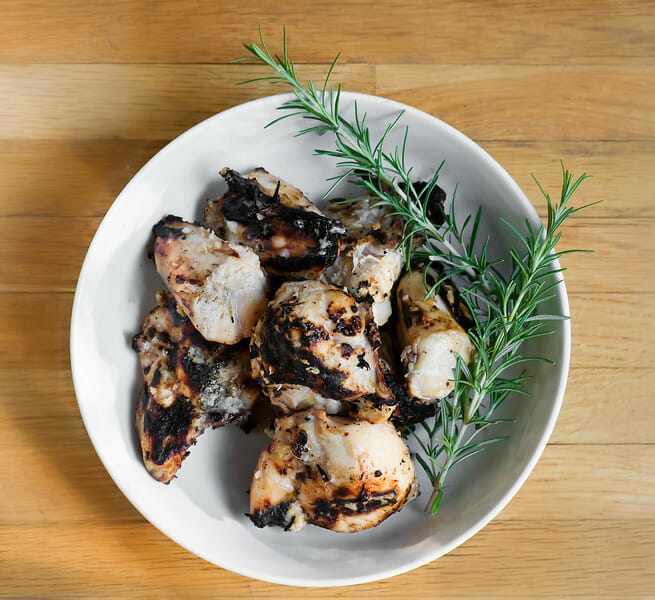 This easy recipe for grilled buttermilk rosemary chicken is the ultimate summer barbecue recipe!Click To TweetEvery summer I seem to run into a recipe that I just simply can't stop making over and over again. In the past it has been the Silver Palate's pasta with tomatoes and brie cheese, and fabulous "Way Life Should Be" lobster recipe from New York Times, and one summer many moons ago I made this super-simple raspberry sherbet recipe almost every day. This summer I am fixated on this buttermilk grilled chicken recipe.
It must be something about the buttermilk that makes it taste so wonderful. Buttermilk is a scary, scary thing to me (have you ever taken a really close look at this stuff?), but I have to say that anything I make with it, from this chicken, to fresh ricotta cheese, to my all-time favorite buttermilk fried chicken recipe, turns out great. This recipe calls for mixing up buttermilk, paprika, lots of garlic and some fresh herbs and letting the chicken soak in it all day before grilling it up. It comes out with a delicious flavor that is even better when you eat the leftovers cold for lunch the next day.
One trick that I always use when it comes to grilling chicken: I use kitchen shears to cut the chicken breast halves in half again, so you are left with breast quarters. Much more manageable in terms of picking up and eating…which is what you are going to do with scrumptious summertime grilled chicken, right? Right! 
So if you have been looking around for your go-to summer grilling recipe, you can stop right now – you've found it!  Happy buttermilk chicken, everyone.  🙂
Print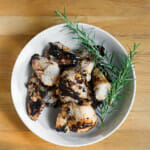 Grilled Buttermilk Chicken
---
Yield:

4
Ingredients
2 cups buttermilk
10 cloves garlic, peeled and crushed
1 tablespoon paprika
kosher salt and black pepper
4 bone-in chicken halves, cut into quarters
8 large stalks fresh rosemary
---
Instructions
Stir the buttermilk, garlic, paprika, salt and pepper together in a mixing bowl.,
Place the chicken in a zippered plastic bag and pour the buttermilk mixture into it. Now take the rosemary and roll it between the palms of your hands (this releases the oils) and drop it into the bag. Seal up the bag and let it marinate in the refrigerator, turning the bags occasionally, for at least 4 hours and up to overnight.
Heat grill to medium high. Remove the chicken from the marinade (throw the marinade out) and grill until cooked through, about 20 to 30 minutes. Turn the chicken over a few times as you grill. This chicken is terrific hot off the grill or chilled!