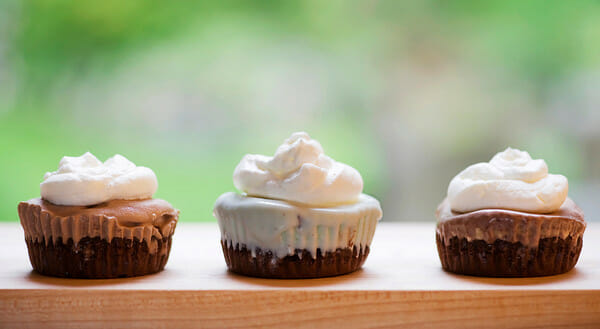 Some recipes are just a work of genius — you run across them and first you think "I have GOT to make this as soon as possible," and for me that is quickly followed by "now, why didn't I think of this??" These delectable little ice cream cupcakes are from one of those recipes, and are from Joy The Baker, who is a virtuoso when it comes to inventive and irresistible desserts. A virtuoso, plain and simple.
Here's the drill: you make up a batch of brownie batter (Joy makes her own, I went right for that Duncan Hines box in my pantry), and you spoon just a little bit into foil cupcake liners. Just enough to cook up a fabulous brownie base for your cupcake. Bake and freeze. Then grab your favorite flavor or flavors of ice cream and let it soften. I chose (from left to right in that picture up there) chocolate, mint chocolate chip, and Starbucks Mocha Frappachino. Spoon enough soft ice cream on top of each brownie bottom to fill the cupcake liner. Freeze again.
What you do from here is up to you. Plain would be fine. Joy makes a little chocolate ganache to go on top of hers. I whipped up some cream with a little sugar and vanilla and plopped it on top of each cupcake. Now, the three specimens up there did not last much past their photo op, but the rest of their cousins went into a Ziplock bag, and the next time we got a craving for an ice cream cupcake all we had to do was take one out of the bag and add the topping. Or take one out of the bag and eat it immediately while still standing in front of the freezer.
Ice Cream Cupcakes. Happy happy summer.

Print
Ingredients
One batch brownie batter
Assorted flavors of ice cream
---
Instructions
First make the brownie batter. Line two cupcake pans with the foil cupcake liners. Into each cupcake liner, scoop 1 Tablespoon of brownie batter. Bake at 350 degrees F for about 6-8 minutes until the brownie is cooked through.
Let the brownies cool in the cupcake pans to room temperature. Once cool, place in the freezer (still in the cupcake pans) for 30 minutes. When you place the cupcake pans in the freezer, remove the ice cream you're using and place in the refrigerator to soften.
When ready to assemble the cupcakes, remove the cupcake pans with foil lined brownie cups from the freezer. Remove the ice cream from the fridge. Run the ice cream scooper under hot water and working quickly, portion a small scoop of ice cream into each foil lined cup, while still in the cupcake pan. The cupcake pan will help the Ice Cream Cupcake hold its shape. You may need to rinse the scooper under hot water in between scoops for easy portioning. Quickly smooth the scoops of ice cream with the back of a small spoon also rinsed in warm water and return the ice cream cupcakes quickly to the freezer.
Let the newly formed Ice Cream Cupcakes refreeze for 45 minutes to an hour.
To serve, remove the cupcakes from the freezer about 5 minutes before you'd like to serve them. Finish with a dollop of whipped cream and serve.
Recipe adapted just a bit from the incredibly talented Joy The Baker