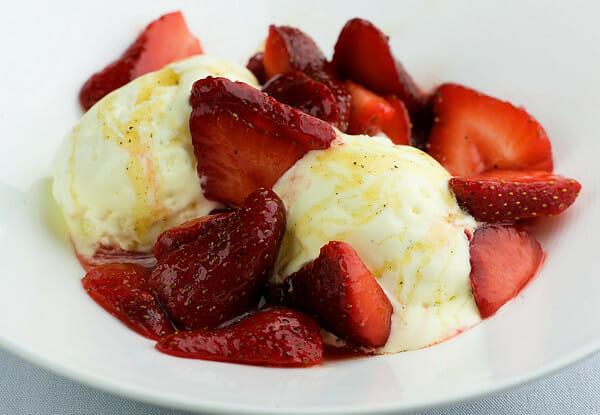 The other day I posted a great recipe for crostini with lemony mascarpone and peppers, created and cooked by the wonderful chef Jessica Marotta from Campagnia restaurant, and I promised that I would follow up promptly with Jessica's recipe for Mascarpone Semifreddo with Strawberries and Black Pepper Honey. And here it is!
Jessica is the latest chef that I have been lucky enough to photograph for our local Meet the Chefs series, and she taught us all about mascarpone. She makes her own, and she brought a delicious bowl of it with her.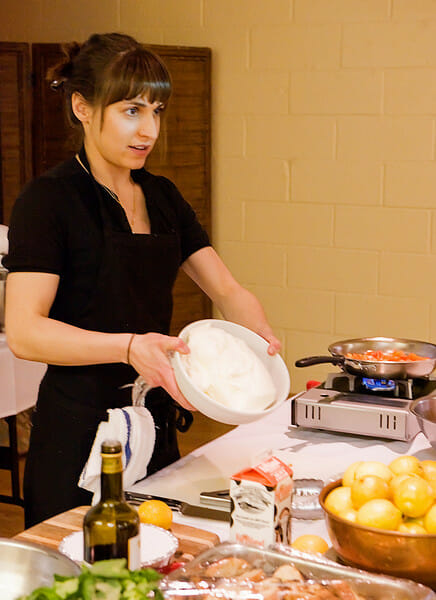 And she also told us (phew!) that these recipes would work just fine if we used store-bought mascarpone, so hang in there with me. We are now going to make mascarpone semifreddo. Which means ice cream. Really, really, really good ice cream. First Jessica beat some egg yolks and confectioner's sugar until it was gorgeously fluffy.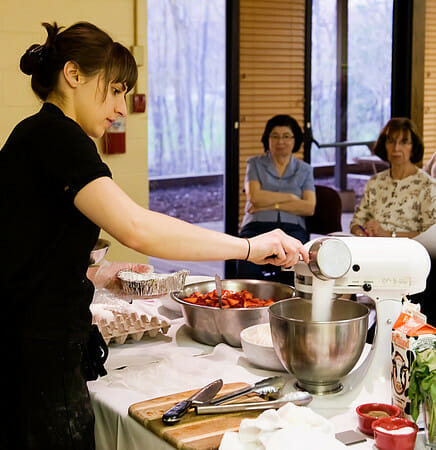 Then she whipped up some heavy cream, vanilla and more confectioner's sugar, and mixed that with some of the mascarpone. Then she folded it into the egg yolk mixture.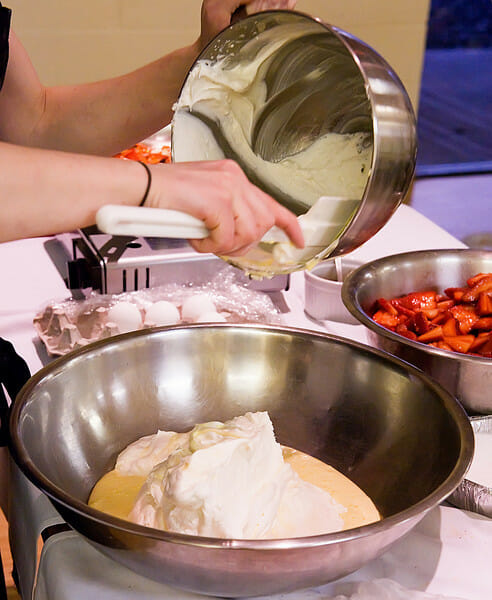 At this point you are supposed to freeze it for 8 hours until it is all chilled and ice creamish. Luckily for us in the audience, Jessica had made a lot of it ahead of time and was just walking us through the steps so we could immediately go home and make our own. Whew!
Next she cut up some gorgeous looking strawberries…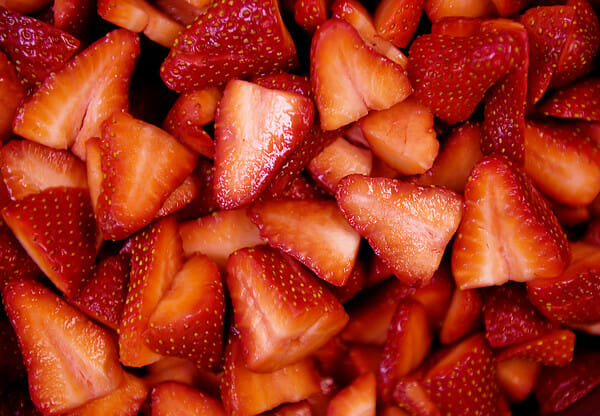 She had some leftover lemons from the crostini recipe, so she mixed a little lemon juice into the berries.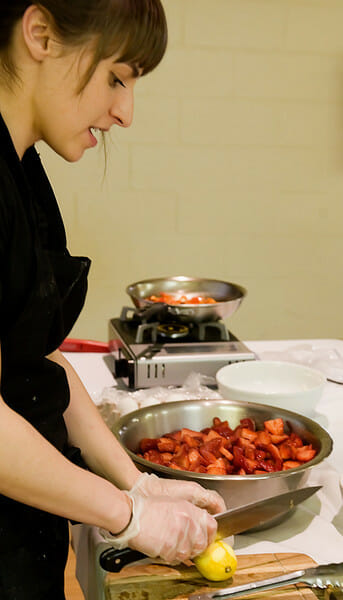 Yum.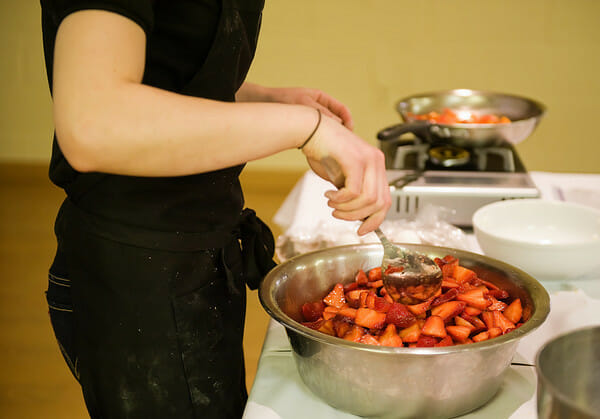 Then it was time for the assembly. A few scoops of the semifreddo. Some strawberries on top…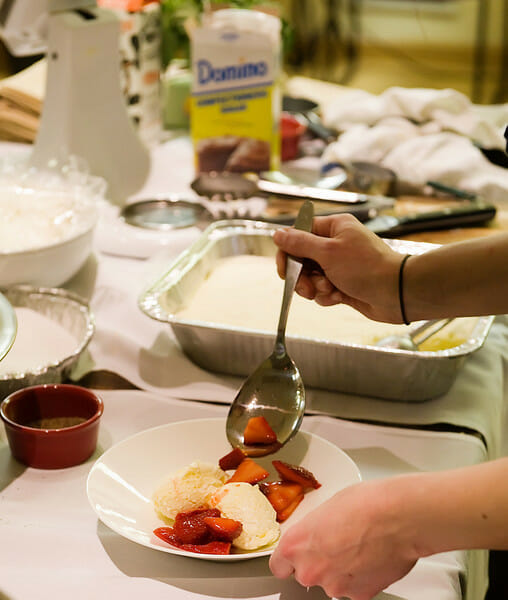 Then…get ready…she combined some honey and some fresh ground black pepper together to make a sauce that was both sweet and spicy and out of this world. Which she then drizzled on the ice cream. I thought the audience was going to fall out of their folding chairs.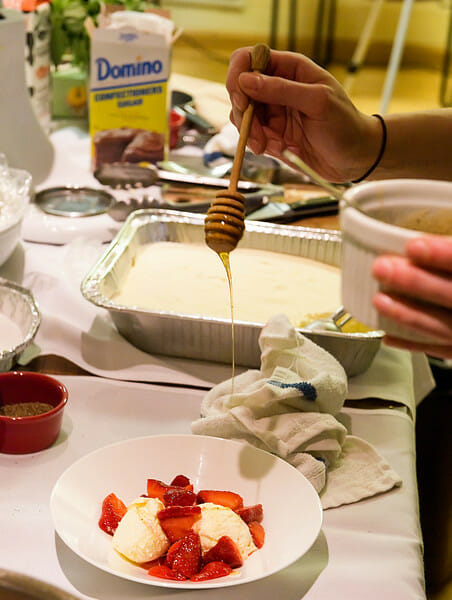 It was sweet and cold and a little bit spicy and 1000% delicious.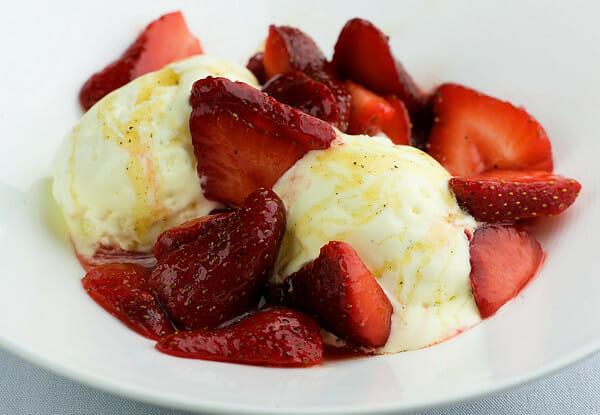 Jessica's amazing recipe is below. And if you are in the area, make sure you stop in at Campagnia. They have a whole menu that is as fabulous as this dessert. Thanks, Jessica!
Mascarpone Semifreddo with Strawberries and Black Pepper Honey, by Jessica Marotta
Print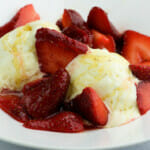 Mascarpone Semifreddo with Strawberries and Black Pepper Honey
---
Ingredients
4 cups heavy cream
1 vanilla bean, seeds scraped or ½ teaspoon pure vanilla extract
8 ounces (1 cup) mascarpone
1/3 cup confectioners sugar
10 egg yolks
1 cup sugar
1 quart strawberries, cleaned and sliced into quarters
¼ cup wildflower honey, or any unfiltered honey
¼ teaspoon fresh cracked black pepper
---
Instructions
To make the semifreddo; In the bowl of a stand mixer fitted with a whisk attachment, combine yolks and 1 cup sugar. Beat on medium speed for 2 minutes, then turn mixer to high and beat for an additional 5 minutes, or until the yolks are light and fluffy. Transfer the yolk mixture to a large mixing bowl. In a clean, dry bowl of a stand mixer, combine heavy cream, vanilla bean seeds (or vanilla extract) and confectioners sugar. Whisk cream mixture on medium-low for 2 minutes, then increase speed to medium and whisk until soft peaks form. Add mascarpone, and whisk on low until incorporated. Gently fold cream mixture into yolk mixture, until there are no streaks. Transfer semifreddo to a frezzer proof container. Freeze at least 8 hours before serving.
To make the black pepper honey; Combine honey and pepper in a bowl and stir thoroughly.
To assemble; Scoop semifreddo into serving dishes, top with strawberries and drizzle with a small amount of black pepper honey. Let semifreddo stand for 3 to 5 minutes to soften before serving.