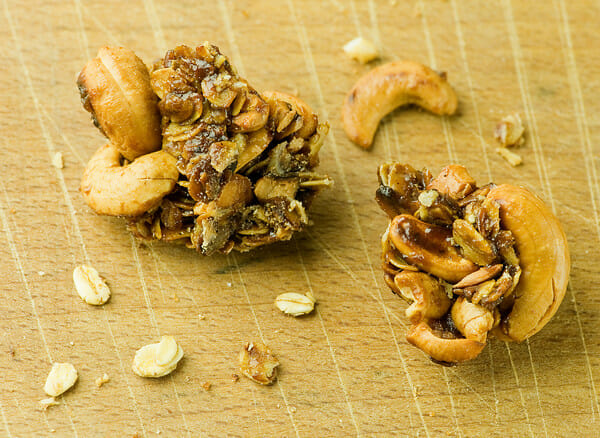 This is one recipe that almost didn't get posted here, because it just didn't turn out the way I expected it to. The title of the original recipe was "No-Bake Cashew Brittle Bars," and the picture of them showed these nice neat little bars. Yes, there was a crumb or two in the picture, but overall? Nice organized little bar cookies.
Now, I am a cashew fiend, and I always have them around. And anything with the word "brittle" in it has me at hello. These also have a good amount of oatmeal in them, along with one of my all-time flavorings in the world, and that is molasses. I heart molasses. My grandmother's molasses cookies (which you can find here) are the single most popular item on this blog by a country mile, so I think a lot of you are with me on the whole molasses thing. Plus I like the bunny on the molasses bottle cap.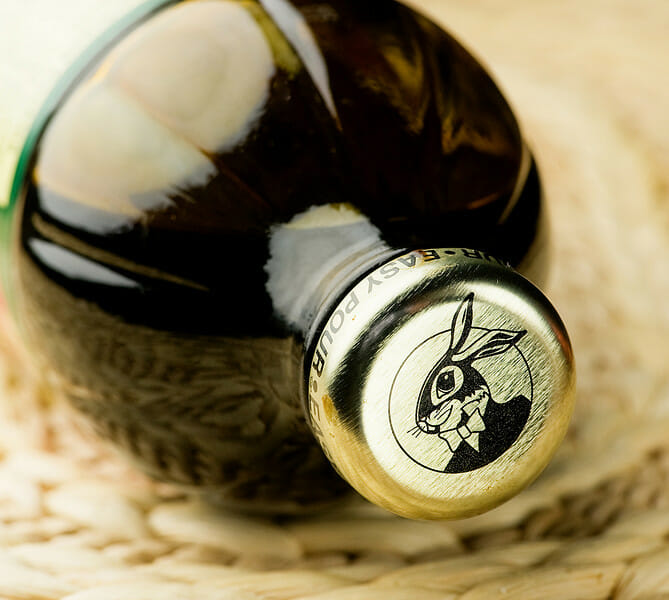 Anyway, I made these things last weekend and followed all the directions, and they looked and smelled just heavenly, and then came time to cut them into the nice little bars. I got out my trusty big chef's nice and made a nice slice down the middle.
C R A C K!
They broke apart into two uneven hunks, with some smaller chunks breaking off the the bigger pieces. Hey!! What happened to my nice even no-bake-cashew brittle-bars??? I tried again, working on the bigger of the two uneven hunks. Same thing. So at the end of the whole process I ended up with what I am now calling cashew brittle chunks. That's when the Southern husband walked into the kitchen. I guess I was looking a little aggravated, and I did have a big knife in my hand at the time, and he catches on really quickly…so he asked me ever-so-gently if there was anything wrong?
I launched into a whole rant about bars and chunks and following directions and what the picture looked like and what MY version looked like and at some point during my whole monologue I realized that he was nodding…and eating. And eating. And eating. Now, the Southern husband is not a big one for sweets. He'll eat a cookie if I hand it to him, but he doesn't seek them out. (I know. I'm not sure what's wrong with him. It's just not normal.) But he was munching away on those chunks, and so I picked up my own piece.
Oh my goodness. They might not be beautiful, but they sure do have a nice personality. YUM. They are like the love child of a granola bar and traditional nut brittle. Sweet and crunchy and just a tiny bit chewy and full of that sweet molasses and salty cashew taste. Now, if you (or I) really did want them to come out in organized, even little square shapes, the trick would be to cut them up after they had cooled just enough to handle, but not so much that they were fully hardened. I'd say a good ten minutes in the fridge would do it…cut them up and then pop them back in to finish hardening. I will try that next time, because there WILL be a next time. It might ruin the Southern husband's reputation but I must tell you that he ate all but one chunk that day. All but one.
Who leaves just ONE? I ask you now.


Cashew Brittle Chunks

, from Martha Stewart.com
Print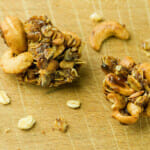 Cashew Brittle Chunks
---
Ingredients
1 1/4 cups old-fashioned oats
1 cup (about 5 ounces) salted cashews
1 1/2 ounces (3 tablespoons) unsalted butter
1/2 cup packed dark-brown sugar
3/4 teaspoon ground cinnamon
3 tablespoons light corn syrup
1 tablespoon molasses
1/2 teaspoon coarse salt
---
Instructions
Line a 4 1/2-by-9-inch loaf pan with parchment paper, leaving a 1-inch overhang on each long side. Toast oats and cashews in a large skillet over medium-high heat, stirring often, until aromatic and just starting to turn golden brown, 5 to 6 minutes. Transfer to a medium bowl.
Add butter, sugar, cinnamon, corn syrup, molasses, and salt in the skillet, and cook over medium heat, stirring, until butter melts and mixture bubbles, 2 to 3 minutes. Pour hot mixture over oats and cashews, and stir to combine.
Transfer mixture to loaf pan. Using a spatula, press mixture into an even layer. Refrigerate until set, about 30 minutes. Remove chilled mixture from pan using parchment, discard parchment, and cut into 1-inch thick bars. Or chunks, as the case may be…