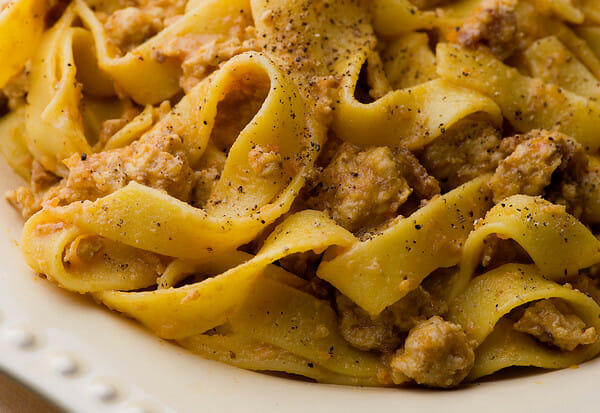 Before I get to both the contest and the wonderfulness of this recipe, I have to tell you why this particular one has such a fond place in my heart. I'll give you a hint.
BAM!
Yes, it comes from Emeril LaGasse, who I have had the grand good luck to know and work with on his children's cookbooks. Along with being an amazing chef, he is one Very Nice Guy. We had a terrific time with the kids cookbooks, not the least of which came out of one very fun day when the teenager was just a tyke. Emeril thought it would be great if the cover of his kids cookbook featured some kids we all knew and loved, and conveniently I happened to have one of those around. So one day we trucked into New York City for the photo shoot. This being an Emeril book, there was a lot of laughing and jumping around and silliness as we took the pictures. Check out the picture below and see if you can guess which one is the now very sophisticated teenager…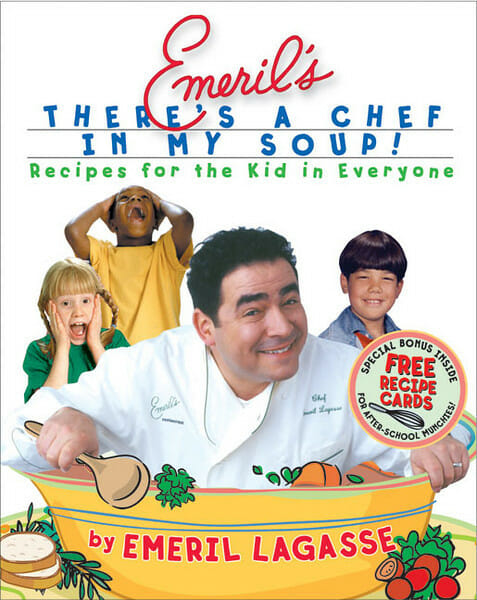 Here's a hint. I really, really miss those pigtails.
Anyway, I can tell you that this particular cookbook is not just for kids…it's for anyone who wants to make a really rocking macaroni and cheese, Emeril-style…along with a load of other fabulous recipes. I have yet to meet an Emeril recipe I didn't love…which is why when I spotted this bolognese recipe in Everyday Food magazine, I tried it out pronto, and have since made it over and over again. It is a departure from the usual beef-based bolognese sauce in that it uses ground turkey breast, along with the usual mix of chopped carrots, celery and onions. Some white wine, some chicken broth, some garlic, a little half and half, some tomato paste — you get the picture. The turkey makes it a little lighter than a beef sauce, which in my book means you can have MORE.
So in celebration of all things Emeril, I am delighted to say that three lucky people are going to get a copy of both the kid's cookbook, THERE'S A CHEF IN MY SOUP…and a copy of Emeril's equallly fabulous grown-up title, EMERIL'S TV DINNERS. Although I promise you, the kid's book is pretty great for grown-up cooks as well. Just leave me a comment below telling me who your favorite celebrity chef is. In addition to Emeril, of course. I will announce the lucky winners on Saturday, February 6. And as always, my wonderful email subscribers can play by clicking on the title of this post in the email — it will take you to the actual post where you can comment.
One more thing before we get to the recipe…
BAM!
(I love that.)
TURKEY BOLOGNESE, by Emeril LaGasse for Everyday Food 
Print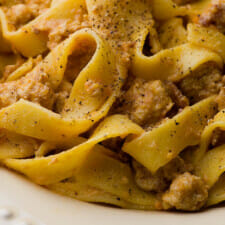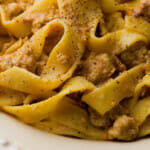 Tagliatelle with Turkey Bolognese Sauce and a Double Cookbook Contest!
---
Prep Time: 15 minutes
Cook Time: 1 hour, 20 minutes
Total Time: 1 hour 35 minutes
Category: Dinner
Method: Stovetop
Cuisine: Italian
Ingredients
10 slices turkey bacon (6 ounces), finely chopped
1 large onion, finely chopped
3 carrots, finely chopped
2 celery stalks, finely chopped
Coarse salt and ground pepper
2 pounds ground turkey (97 percent lean)
3/4 cup dry white wine, such as Sauvignon Blanc
2 garlic cloves, minced
1 can (6 ounces) tomato paste
1 can (14 1/2 ounces) reduced-sodium chicken broth
1/2 cup half-and-half
---
Instructions
In a 5-quart Dutch oven or heavy pot, cook bacon over medium until crisp, 10 to 12 minutes. Add onion, carrots, and celery; season with salt and pepper. Cook, stirring occasionally, until vegetables are tender, 8 to 10 minutes.
Add turkey; cook, breaking up meat with a spoon, until no longer pink, 8 to 9 minutes. Add wine and garlic; cook until wine has almost evaporated, 10 to 15 minutes. Add tomato paste; cook, stirring occasionally, until lightly browned, 7 to 10 minutes.
Add broth and half-and-half; bring to a boil over high. Reduce to a simmer, and cook until sauce is thick and creamy, about 30 minutes more. Serve over your favorite pasta.