This fun recipe for cheddar jalapeno huevos rancheros in tortilla cups puts this spicy egg and tomato dish in easy to make little tortilla bowls, making them easy to eat as well as delicious!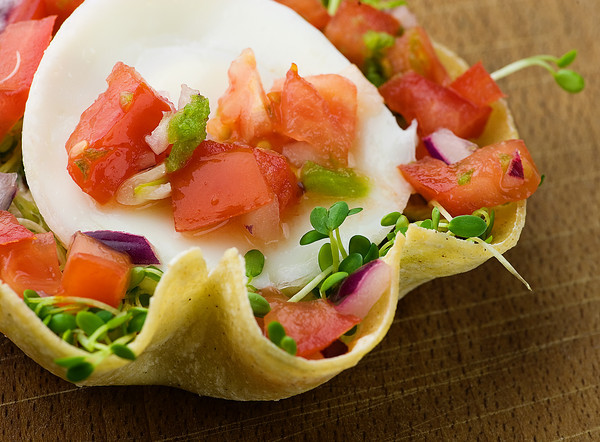 Here's one of the many things I love about my little blog…one thing leads to another and I end up getting ideas and recipes from the most unexpected places. Take this little number, for example. Where would you expect something that has the words "jalapeno, huevos, rancheros" and "tortilla" to come from?
Someplace south of the border, right? Someplace warm and sunny?
Someplace like this?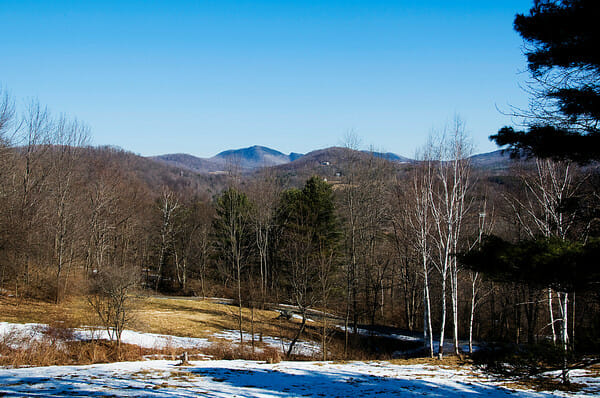 If you guessed tropical, sultry Vermont, you would be right. I wish I had a picture of it with a little more snow…this is actually what our cabin view will look like in the spring when things thaw out a little…but you get my drift.
So here's what happened….I was singing the praises of Cabot cheddar recently in my post on Butternut Cheddar Soup. That particular recipe came from an ad for the wonderful Vermont Cabot cheddar, and the great folks at Cabot liked my post.
They sent me a groovy package of stuff, including a recipe booklet full of things that you can make with Vermont cheese and Vermont sour cream and Vermont butter…including a recipe for Huevos Rancheros. Vermont style. Made with delectable Cabot sour cream, and Cabot pepper jack cheese.
So before we get to this seriously wonderful recipe, just a little bit about Cabot. They are a farm family-owned dairy coop located in Cabot, Vermont, and they make some of the best cheddar cheese you will taste anywhere. You can find it in most supermarkets, and in wonderful giant hunks at Costco. They also make butter, sour cream, yogurt, and probably some other stuff that I don't even know about.
Here's How To Make Cheddar Jalapeno Huevos Rancheros in Tortilla Cups
You take some nice corn tortillas — I used the 6 inch round guys — and soften them up in the microwave for about 10 seconds. Tuck them into whatever nice round oven-safe dishes you have — I have these little Pyrex bowls that are about 4 inches across. Just big enough to put a tortilla into and have it fit with just a little bit of nice curving along the sides.
Now drop a good-sized handful of grated Cabot pepper jack cheese in each one. Pop the tortilla bowls in the oven for about 10 minutes until the cheese is melted and the tortilla is just a bit crispy.
Meantime you are going to throw together a quick salsa of chopped tomato, chopped red onion, jalapeno, a little honey and some lime juice. Mix up a little cumin with some Cabot sour cream. Poach yourself some eggs. Still with me? Now you are ready for The Assembly.
First, drop a good dollop of cumin sour cream on the top of the melted cheese inside the tortilla.
Second, line the inner edge of the tortilla shell with alfalfa sprouts or chopped lettuce or whatever kind of little greens catches your fancy.
Third, tenderly lay a poached egg in the center of the shell. (Check out the recipe below for my note on making perfect poached eggs, and if poached eggs are not your thing, you can absolutely use soft boiled or fried eggs.  Just as long as you have a cooked egg.)
Lastly, put as much salsa around the egg as you need and want. Put a spoonful on top of the egg for good measure.
That's it — you are ready to roll. I served these up to the Southern husband with a fork and knife, but we looked at the tortilla cups, looked at each other, looked back at the cups, and picked them up with our hands. It was messy and delicious and fun.
So the next time you are looking for great Mexican recipes? Vermont. Of course.

Print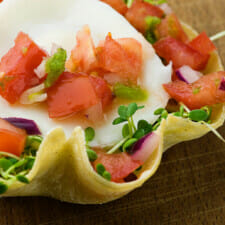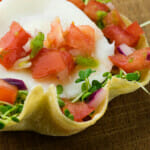 Cheddar Jalapeno Huevos Rancheros in Tortilla Cups
---
Author:

Prep Time:

10 minutes

Cook Time:

15 minutes

Total Time:

25 minutes

Yield:

6

servings

1

x
Category:

Breakfast

Method:

Microwave, Stovetop and Oven

Cuisine:

American
Description
This fun recipe for cheddar jalapeño huevos rancheros in tortilla cups puts this spicy egg and tomato dish in easy to make little tortilla bowls, making them easy to eat as well as delicious!
---
Ingredients
2

medium tomatoes, chopped

1/4 cup

chopped red onion

1 teaspoon

honey

1

jalapeño pepper, seeds discarded and minced (use

1/2

a pepper if you like things less spicy)

1 tablespoon

fresh lime juice

1/2 teaspoon

salt

1/4 teaspoon

ground black pepper

1/4 cup

sour cream

1 teaspoon

ground cumin

6

medium sized corn tortillas

8 ounces

pepper jack cheese, grated (we love Cabot!)

6

large eggs

1/2 pint

alfalfa sprouts or other little greens (optional but delicious!)
---
Instructions
Preheat oven to 375°F.
In medium bowl, combine tomatoes, onions, honey, jalapeño, lime juice, salt and pepper and set aside.
In another bowl, combine sour cream and cumin and set aside.
Place one tortilla between two sheets of paper towel and microwave for 15 seconds to soften. Press inside a large custard cup or ramekin to form into bowl shape. Repeat with remaining tortillas.
Place cups with tortillas on a baking sheet and divide the cheese among them, spreading it evenly along the bottom. Bake for 10 to 15 minutes, or until cheese is melted.
Meanwhile, poach eggs (see note below for my favorite method!)
To serve, place sour cream and greens in each tortilla cup. Top with a poached egg and spoonfuls of tomato mixture.