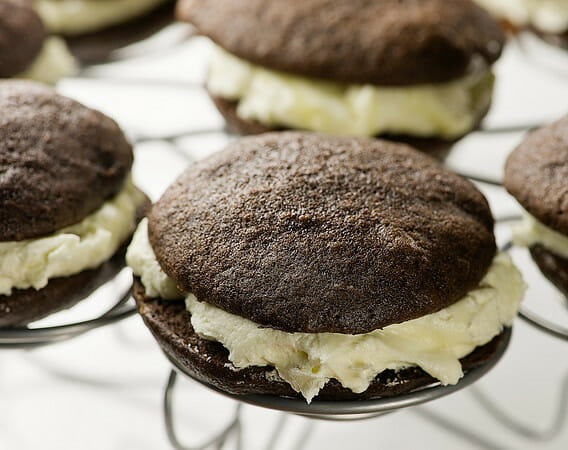 Now, this probably falls into the "dare to be obvious" category of comments (or as the teenager would say, DUH!!) but I don't tend to make a lot of things out of prepared mixes. However, every once in a while I run across something that is both perfectly wonderful AND is a prepared mix, and as far as I am concerned, that is perfectly, wonderfully okay. Manischewitz matzoh ball soup mix, for example. Ghiradelli brownie mix, for example. King Arthur dog biscuits, for example. So I try to keep an open mind about these things, which was a good thing when it came to these whoopie pies.
For those of you who haven't experienced the wonder of a whoopie pie, it is basically two circles of the softest chocolate cake imaginable, held together oh so perfectly by a fluffy vanilla cream filling. That's it, and that is all you need. The very small amount of research I have done tells me that these originated in either New England or Pennsylvania Amish country, and they got their name because when folks found them in their lunch buckets they would shout "Whoopie!!" Sounds reasonable to me.
Anyway, somewhere along the line someone gave me a a package of this whoopie pie mix from the marvelous Stonewall Kitchen, which you have heard me rhapsodize about before in terms of their amazing jam. So I decided to give it a try this weekend, and by the time it was over…
WHOOPIE!!!!!
Sorry, I couldn't resist. But seriously, these were easy and quick and taste just wonderful. So if you are ever in the mood for something chocolate and a little different….whoopie pies. You won't be sorry.
Stonewall Kitchen Whoopie Pie Mix