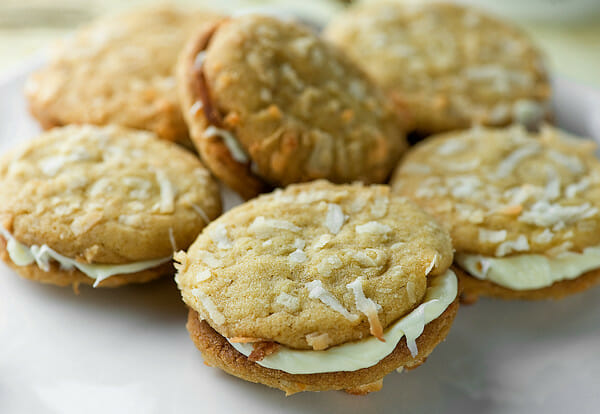 I just can't quite wrap my mind around the fact that Christmas cookie baking season is OVER. Yes, we are all now supposed to be eating brown rice and steamed spinach and tofu. My mind says yes, but my heart says….JUST ONE MORE BATCH OF COOKIES!!!
And happily I was going to see my friend L last week, and since I hadn't seen her during the official holidays it was pretty much essential that I bring her some cookies. She loves both chocolate and coconut and coincidentally, I just happened to have this one last cookie recipe that called for both. It's from my very favorite magazine, Real Simple, which is full of pictures of rooms that look like what I wish my house actually looked like. Clean. Simple. Streamlined. Not a shredded dog toy or an abandoned biology textbook or an empty pizza box complete with ossified pizza crusts inside anywhere in sight.
Sigh.
Meanwhile, back in the real world, I gave these coconut cookies a try, and as luck would have it the recipe made not only enough for a cookie-jar-full for L, but also a nice little plateful for me. Since part of the joy of holiday cookies is eating the leftovers, right? These are sweet and crunchy coconut sandwich cookies with just the perfect amount of white chocolate holding them together. After polishing off the last one, I think I will now be able to face the brown rice. And Valentine's Day is not too far off, anyway….
COCONUT SNOWBALL COOKIES, from Real Simple
Print

Coconut Snowball Cookies

---

Ingredients

1 cup packed dark brown sugar
2 sticks butter at room temperature
1/2 cup granulated sugar
2 tablespoons corn syrup
1 teaspoon vanilla extract
1 large egg
2 3/4 cups all-purpose flour
1/2 teaspoon kosher salt
1 1/4 teaspoons baking soda
1 7-ounce bag sweetened flaked coconut
12 ounces white chocolate (chopped or chips)

---

Instructions

Heat oven to 375° F. Line 2 baking sheets with parchment paper or aluminum foil, or use a Silpat.
With an electric mixer on medium-high, beat the butter, brown and granulated sugars, corn syrup, and vanilla for 3 minutes. Add the egg and beat until combined. In a separate bowl, whisk together the flour, salt, and baking soda. Reduce mixer speed to low and slowly add the flour mixture to the egg mixture.
Form the dough into teaspoon-size balls. Spread the coconut on a plate. Roll each ball in the coconut, pressing so it adheres. Place on prepared baking sheets. Bake for 10 to 12 minutes. Cool on the baking sheets for 5 minutes. Transfer the cookies to wire racks.
Meanwhile, in a heatproof bowl placed over, but not touching, simmering water, melt the chocolate, or you can melt it in the microwave by heating for 30 second intervals and stirring until melted.. Turn half the cookies upside down and spread the flat sides with the white chocolate. Sandwich them with the remaining cookies.