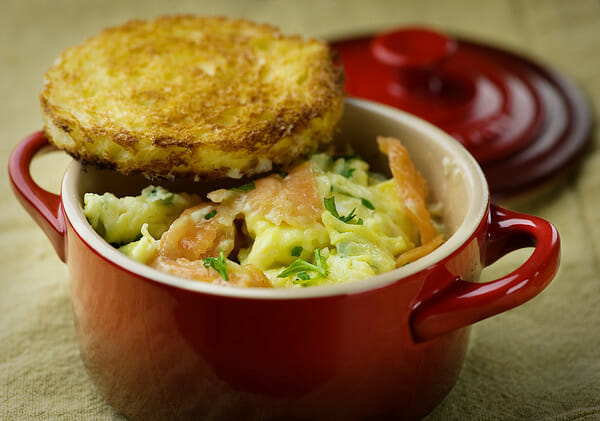 There they are. My adorable little La Crueset individual crocks. Get used to them because I have about one million upcoming ideas of things to make in them. Portion control and loveliness, all in one serving piece — I can hardly stand it.
Tonight our little red crocks are featuring eggs that are scrambled with milk, cream cheese, some chopped herbs and ribbons of smoked salmon, with toasted brioche circles. (I feel like the maitre d at a posh Upper West Side of Manhattan brunch place!). You'd never know that this swanky comfort food came together in about 15 minutes, but oh yes it did. Here's my favorite trick to this recipe — put the little crocks in the oven while you are making the eggs, and they will be all nice and toasty warm when the eggs are ready to be popped into them. And okay, if you haven't yet gotten your own set, you can use any oven-safe plate or bowl. I'm pretty sure they will taste ALMOST as good.
Last but not least, I know the picture looks like this can not possibly be enough to keep the Southern husband from getting hungry an hour after he eats, but this recipe is rich enough that a crock-full is actually the perfect amount. Yum, yum. Give it a try and see what you think.
SCRAMBLED EGGS WITH SALMON AND HERBS, from La Crueset 
Print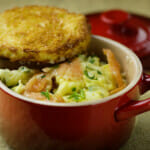 Scrambled Eggs with Salmon and Herbs
---
Ingredients
8 large eggs
8 slices challah or brioche bread
4 pieces smoked salmon, cut into ribbons
3 tablespoons milk
4 tablespoons chopped fresh herbs (chives, tarragon, parsley)
1/2 stick butter
4 ounces cream cheese
Salt and pepper
---
Instructions
Heat 4 serving dishes in 300 degree oven while preparing eggs
Cut circles out of bread slices with cookie cutter or top of glass. Toast until golden.
Whisk eggs with milk and half of the herbs.
Melt butter in frying pan over low flame. Add eggs and cream cheese and cook for 4 minutes, stirring from time to time. Add salmon and cook without stirring for one more minute. Salt and pepper to taste.
Put one toast circle on each plate or in each bowl. Divide eggs among plates. Scatter remaining herbs on eggs and top with remaining toast circle. Serve immediately.