This scrumptious recipe for pecan bestseller pie is the result of a bet between author Neil Gaiman and his editor Elise Howard. Everyone won!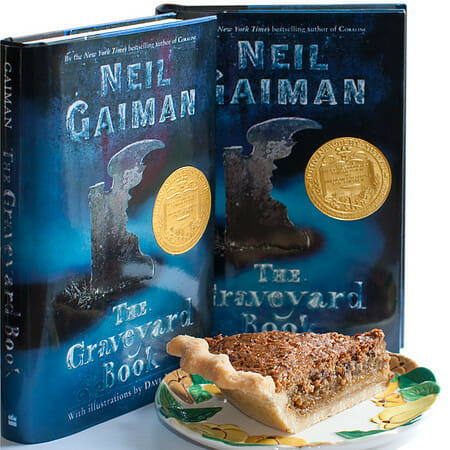 Photo by Leo Chapman

I love pecan pie and would have gotten around to blogging about it sooner or later, but as it turns out, my friend Elise is an awesome pecan-pie-baker, and not only that, has a better pecan pie story to tell than I will EVER have. So I asked her to be Framed Cook's very first guest blogger. Happily she said yes!  So here is Elise Howard and her Pecan Bestseller Pie story….
********
Just over a year ago, HarperCollins published The Graveyard Book, by Neil Gaiman, which I had the privilege of editing. It immediately went to #1 on the New York Times Best Sellers list. Neil told us here at Harper that if we could keep the book at #1 for a month, there would be cupcakes.
We did, and he did, and they were divine – oversized delights with chocolate frosting, each emblazoned with "#1." Then Neil set us a challenge: keep the book on the Times list till the end of the calendar year – more cupcakes. Sure enough, they appeared as promised.
Late January brought news of a Newbery Medal win for The Graveyard Book, a return to the #1 slot, and still more cupcakes. I think. At this point, frankly, we were operating on a perpetual blissed-out cupcake high, and the exact course of events has become a bit of a blur.
The next pivotal event I remember clearly, however. The Graveyard Book became a fixture on the Times list, and Neil set the challenge: keep the book there for a year, and we would be eating even more cupcakes. "If we stay on the list for a year," I told Neil, "I will bake you a pie."
When week 52 finally arrived, our hearts were in our throats. But since this is a guest post on a cooking blog, you will already have guessed that we made it.
That day, Neil wrote this on his blog: "I am sure there are many people who edit books and also casually produce pies. Elise, for all I know, may be one of these people. I do not believe she is. I liked to think that she was someone who, if The Graveyard Book stayed on the NYT Bestseller List for a year, would need to brush up on her pie-making skills, to navigate the unfamiliar twin territories of piecrust and filling. It would be an adventure."
It suited me just fine that Neil did not know that I am, in fact, a proud if junior member of a Kentucky-based baking dynasty, that I have explored in depth the tough questions: Shortening, butter, or lard? Pastry blender, twin knives, food processor, or no utensil at all? Ceramic, glass or metal?
After toying with the idea of seasonal rhubarb and realizing it would be nearly impossible to ship, I baked the pecan pie Sunday, froze it hard, and sent it overnight on Monday in a beautiful shipping box constructed by my sweet spouse; it arrived in the Midwest by 11 the next morning, nicely thawed and ready to slice.
Here's what it looked like as Neil posted it on his journal at neilgaiman.com: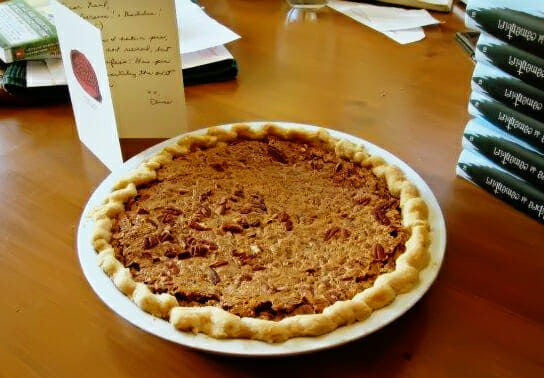 Was it a success? Let's just say that if my editorial letters were greeted with half as much enthusiasm by my dear authors, I'd have the happiest job in publishing. Neil tweeted it, blogged it, and sent several e-mails with pictures attached of the pie in various stages of consumption.And today I received news of a lovely coda to this story: Inspired or frustrated by all Neil's talk of cupcakes and pie, the folks at needcoffee.com announced a Graveyard Book Dessert Challenge.
Their results are humbling and inspiring – and they look delicious. Meantime, here's the recipe for my Pecan Bestseller Pie, if you'd like to try it yourself.
Thanks Elise! An amazing pie just in the nick of time for Thanksgiving baking madness. And now for giveaway number 2 of this post: everyone who leaves a comment telling me and Elise what their own favorite pie is will be entered into a random drawing for one of three copies of the #1 bestselling, Newbery Award-winning, pie-inspiring GRAVEYARD BOOK, by the incomparable Neil Gaiman. 
These giveaways are now closed…but you can still be a winner by making Elise's amazing pecan pie!
Print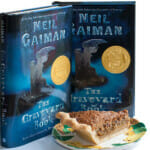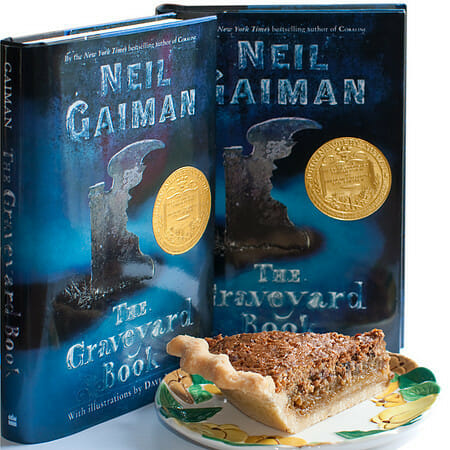 Pecan Bestseller Pie
---
Author:

Prep Time:

20 minutes

Cook Time:

1 hour

Total Time:

1 hour 20 minutes

Yield:

10

servings

1

x
Category:

Dessert

Method:

Oven

Cuisine:

Southern
Description
This scrumptious recipe for pecan bestseller pie is the result of a bet between author Neil Gaiman and his editor Elise Howard. Everyone won!
---
Ingredients
Crust
1 ½ cups

unbleached all-purpose flour

1 teaspoon

salt (less if you are using kosher or sea salt)

½ cup

very cold shortening

¼

scant cup cold butter

¼ cup

ice-cold water
Pecan Filling (based on R. Chancellor's Buckfield Pecan Pie, as shared by Ben Baglio many, many years ago)
¼

lb. butter

3 tablespoons

flour

1

lb. light brown sugar

6 tablespoons

half-and-half

3

eggs

2 teaspoons

champagne vinegar

1 ½ teaspoon

vanilla

1 cup

chopped, toasted (

4

or

5

minutes in a 350° oven) pecans
---
Instructions
Combine flour and salt in a food processor with a couple of quick pulses. Handling it as little as possible, add the shortening in about eight large chunks. Pulse rapidly 5 or 6 times till the mixture appears to be fine crumbs.
Add the butter, cut into several pieces, again handling as little as possible. Pulse another 5 or 6 times until the coated particles of fat are varied in size, with the largest about the size of an almond.
Begin adding water in a trickle, just a couple of tablespoons at first. Pulse 2 or 3 times. If the mixture is still quite dry, add a little more water. Pulse 2 or 3 more times. When the dough begins to form a ball, stop right away.
Handling the dough as little as possible, using just your fingertips, shape it into a ball and flatten it on your countertop or whatever well-floured surface you will use to roll it. I like to use a cold (notice the theme?) marble pin, rolling the dough quickly and lightly with as few strokes as possible, working from the center out to the edges until the crust is about 1/8-inch thick and 13 inches in diameter for a 9-inch pie pan. (I prefer metal.) What's up with all the cold ingredients and utensils? It keeps the fat, especially if you are using butter, cool and solid as you work, so when the pie goes in the oven, the variously sized chunks melt at last, producing a flaky, tender crust.
Once the piecrust is in the pan and crimped however you like (a topic for a whole other blog post), stick it in the fridge while you work on the filling.
Pecan Filling
Pre-heat oven to 325°. Melt butter, let cool. Beat eggs in a small bowl and set aside.
Mix flour and sugar; add beat eggs and half and half. Beat well by hand or in a stand mixer on a medium setting. Stir in vinegar and vanilla. Add butter and nuts.
Pour into a chilled, unbaked pie shell (9-inch is perfect). Bake for one hour, or until mixture is gooey and thick, but not totally solid. It's meant to be cooled before serving, but it's really good still slightly warm and custardy inside, too.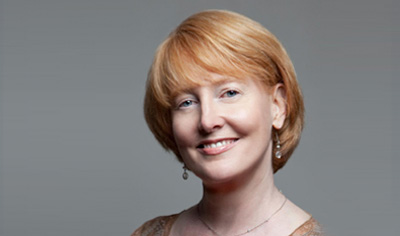 Hi there!  I'm Kate, and I'm a recipe writer, food photographer and devoted bacon lover.  I started Framed Cooks in 2009, and my mission is to create and share family-friendly recipes that make cooking both easy and fun…yes, I said FUN!  My kitchen is my happy place, and I want yours to be that place too.  And if you make this recipe, I would love you to tag @FramedCooks on Instagram so I can see the deliciousness!