Bistro salad is a simple but glorious combo of bacon, egg, lettuce and your favorite vinaigrette, with a little bread and cheese. Easy and elegant!
Oh, how I love this easy and elegant recipe for bistro salad!  If you can fry an egg (and click here for my perfect fried eggs recipe!)  then you can make this lovely, swanky number that is light and delicious and colorful and ready in two shakes. This is one of those dinners (and sometimes lunches) that I always have on call for those days when I have run out of clever ideas for what to make for dinner…or those nights when whatever clever idea I DID have on the menu happens to land on One Of Those Days.  Ready for some bistro salad deliciousness?  Let's make it!
Bistro salad is an easy, elegant combo of bacon, egg, lettuce and an easy mustard vinaigrette!
Click To Tweet
So here's the scoop: you cook up a few pieces of bacon however you like to make it. I always recommend baking it in the oven…it always comes out perfectly and a lot less messy than the stove…
and here's my friend Robyn's perfect perfect bacon in the oven recipe
.  Mix up a quick and easy mustard dressing, which you are going to drizzle on in a few minutes.  Fry up as many eggs as you have people. Or poach them if you are more of a poached egg person, and
click here for my easy, 100% guaranteed method of egg poaching
.
Then it goes like this: bed of lettuce, layer on some bacon, pop an egg on top, drizzle on your dressing, and top it all off a little fresh ground pepper. If you cook the egg so that the yolk is not too firm, the egg will add to the dressing and you are in Bistro Salad Heaven.
If I have some French or Italian bread around, I will slice and toast it and spread it with whatever soft cheese I have in the fridge…or if not, a little butter will do. Arrange those artfully on the side of the plate and your lucky fellow diners will think you have been planning this meal for days.  When really, you just decided on it ten minutes ago.  Shhhhh……
Print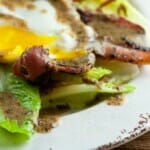 Bistro Salad
---
Author:

Yield:

4
Ingredients
3 tablespoons red wine vinegar
3 tablespoons whole grain mustard
1 shallot, peeled
1 clove garlic, peeled
2 teaspoons fresh thyme
Salt and fresh ground pepper
3/4 cup olive oil, plus extra for drizzling
12 baguette slices, toasted
Your favorite spreadable cheese — Brie, Boursin, etc.
8 slices bacon, cooked and cut in half
1 tablespoon butter
4 eggs
I head of romaine lettuce, leaves separated and rinsed
---
Instructions
First, make dressing by processing vinegar, mustard, shallot, garlic, thyme, 1/2 teaspoon salt and 1/2 teaspoon pepper in blender or small food processor for 15 seconds. Add oil and process until emulsified, about 15 seconds.
Drizzle baguette toasts with olive oil and spread with your favorite cheese, set aside.
Fry eggs in butter until desired doneness (about 2 minutes for soft yolks, 3 for soft set and 4 for firm set.)
While eggs are cooking, toss lettuce with bacon and enough dressing for your taste (start with 1/4 cup and add more as needed). Divide among plates.
When eggs are done, slide one onto each plate and arrange cheese toasts around the edge. Grind fresh pepper over all and serve.
SaveSave
SaveSave
SaveSave