There are few things in life that make me happier than a warm and wonderful chicken pot pie, full of tender veggies and big chunks of chicken.  However!  I think I may have discovered a couple of those few things.  First, when the pot pie has a crust not made of regular piecrust, but instead made of crunchy on top, soft on the bottom stuffing.  And second, when the pot pies are made in individual ramekin dishes so that you have your very own baby chicken pot pie.  Because when it comes to chicken and stuffing pot pies, it's tough to share!
A word about those ramekins…they are 10 ounce size oven-safe dishes that I picked up at Chef Central, otherwise known as my own little store full of heaven on earth.  If you don't have one near you, click here to see them on their online site.  I bought 6 of them, because they were $2.95 and you never know when you are going to want to make chicken pot pie for a bunch of people.  It could happen At Any Moment.  In my house, anyway.
So! You want to start by sprinkling a little stuffing mix in the bottom of each ramekin.  It's going in there dry, but it will absorb all the scrumptious cooking liquid that is about to happen.
Now you are going to stir together some boneless chicken that you have cut up into bite-sized pieces with some baby carrots, some frozen peas, a little chopped celery, some cream of chicken soup and a little sour cream.  Divide it among the ramekins.
Last but not least, mix up some stuffing with a little hot chicken broth until it is nice and soft.  Now top each ramekin with a generous mound of stuffing.  Into the oven they go, and in about a half an hour, baby chicken and stuffing pot pies are born.
Give them about five minutes or so to cool down (and that is haaaaaaaaard!) and then dig in.
I highly recommend a spoon to get every drop and crumb you have coming to you.
I'll be back soon with another way you can use those ramekins you invested in.  It involves beef.  And blue cheese.  And you let me know if you have other ideas – I do have six ramekins just sitting around waiting to be filled with deliciousness!
Print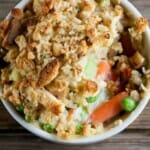 Chicken and Stuffing Baby Pot Pies
---
Author:

Yield:

2
Description
Because chicken and stuffing pot pie is sometimes too delicious to share, this easy recipe makes them in individual ramekins!
---
Ingredients
1 1/2 cups stuffing (I like the good old Stove Top variety!)
1 large uncooked boneless skinless chicken breast, cut into bite-sized pieces
1 stalk celery, sliced
1 cup baby carrots
1/2 cup frozen peas
1/2 cup cream of chicken soup
1/4 cup sour cream
1/2 cup hot chicken broth
---
Instructions
Preheat oven to 400.
Put 1/4 cup dry stuffing in the bottom of each of two 10 ounce oven safe ramekins.
Mix together chicken, veggies, cream of chicken soup and sour cream. Divide among ramekins.
Mix remaining stuffing with hot broth and stir. After a minute or two, divide it in between the two ramekins, pressing it down lightly on the top.
Place the two ramekins on a baking sheet and bake for 30 minutes. Cool for 5 minutes and serve.
Notes
This recipe serves 2, but it can be expanded to as many servings as you have ramekins!