Eggs, butter, pasta and a few herbs come together in a rich and silky sauce that is fast enough for a weeknight and elegant enough for company!  Move over tomatoes…here comes the pasta with buttered egg sauce!

These are a few of my favorite things: Soft scrambled eggs.  Perfectly cooked hot pasta.  Butter.  Here are a few of my least favorite things: Bumper to bumper traffic that makes my commute twice as long.  Power outages.  Realizing that it is going to be JANUARY before the next season of Downton Abbey starts.  Luckily, my favorite things make my least favorite things a distant memory…except for the power outage, and if you have a gas stove, you can totally make this comfort food in a power outage.  Here's how!
Eggs, butter, pasta and herbs come together in a silky sauce that is both fast and elegant!
Click To Tweet
If you break it down, this is basically a combination of buttered pasta mixed with very soft scrambled eggs and a little bit of herbs, but you need to put it together in a specific way to give it that perfect something something.  Start by cooking up your pasta – I like to use fettuccine for this one.  Among other things, it's good for twirling.  I am a fan of twirling.
Next, scramble your eggs very, very gently in generous amount of butter.  You want them barely set, and as soon as they are, add the cooked pasta and a handful of herbs – I've made this with parsley, with thyme and with sage and they are all wonderful.  Toss it gently with tongs until the eggs and the pasta are all mixed up.  If the eggs get a little too solid, add a little bit of pasta water to loosen things up.  You want it sauce-like.
Add just a little bit of salt and pepper and transfer it to warmed plates.
Twirl.
All your worries just moved into the back seat, right?  Scrambled eggs, pasta and butter.  Works every time.
Print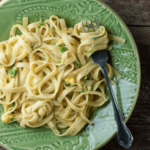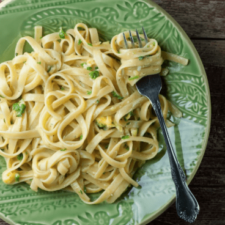 Pasta with Buttered Egg Sauce
---
Yield:

2 servings
Ingredients
6 ounces fettuccine
1/2 stick (4 tablespoons) butter
3 eggs, beaten well
1-2 tablespoons fresh chopped herbs (parsley, thyme and sage all work well)
Salt and pepper to taste
---
Instructions
Cook pasta in heavily salted water until done. Save 1/2 cup of pasta water and drain. Set aside.
Melt butter in a large deep frying pan over medium heat. When it is melted, stir in eggs. Cook until just barely set, stirring once or twice to break them up.
Add pasta and herbs and toss with tongs until the pasta and eggs are combined. Add a little pasta water as needed to give the eggs a sauce-like consistency.
Add salt and pepper to taste, and serve right away on warm plates. Feel much better.
SaveSave