Remember that red pepper hummus we discussed the other day?  The Southern husband and I loved its creamy deliciousness as a nibble with pita chips before dinner, and while we were noshing away on it a lightbulb went off in my head.  It was a tortilla shaped lightbulb (more on that later) that was spread with red pepper hummus and roasted vegetables and rolled up into creamy, delightful sandwich form.  It was one scrumptious looking lightbulb.  Which is how we ended up having roasted veggie wraps with red pepper hummus for dinner that night.
It obviously all started with this red pepper hummus.
Click here for the recipe for that, which will take you all of five minutes to whirl up in your blender or food processor.  Maybe ten if you are having a very mellow day.
But the lightbulb happened when I opened the fridge to see a package of whole wheat tortillas.  They got their via the Southern daughter, who had a very fine plan to make chicken tacos while she was home on her recent break….and somehow never got around to it.  Leaving me with an unopened, lonely bag of tortillas.  She also left behind rice pudding,  a six-pack of Mike's Hard Lemonade and about four hundred assorted flavors of ice pops, none of which I have figured out how to work into any recipes.  But the tortillas!  Those I could work with.
I roasted up a tray of cherry tomatoes, artichoke hearts, carrots and onions that I tossed with olive oil and a little salt and pepper.  I let them cool just a little while I heated up the tortillas and gave them a lavish coating of red pepper hummus.  Then I scattered the warm roasted veggies on top of the tortillas and rolled 'em up.
Yum.  Yum, yum, yum.
Maybe I should make another one and have some Mike's Hard Lemonade on the side?  I gotta draw the line on the rice pudding though.
Print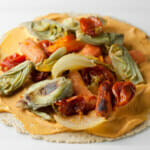 Roasted Veggie Wraps with Red Pepper Hummus
---
Yield:

4 sandwiches
Ingredients
I batch of red pepper hummus (regular hummus will also work just fine!)
One onion, peeled and cut into eighths
1 pint cherry tomatoes
1 cup baby carrots
1 cup frozen artichoke hearts, thawed
2 tablespoons olive oil
1/2 teaspoon salt
1/4 teaspoon pepper
4 tortillas
---
Instructions
Preheat oven to 425 and line a rimmed baking sheet with foil.
Toss the veggies with the olive oil, and then with the salt and pepper. Spread in a single layer on the baking sheet and roast until tender and a little charred in places, about 45 minutes.
Warm the tortillas, either in the microwave for about 20 seconds, or by wrapping them in foil and putting them in the oven that the veggies just came out of for 5-10 minutes.
Spread the tortillas with a generous layer of hummus. Scatter the roasted veggies on top. Roll up, cut in half and serve at once.