I don't know about you guys, but here in the Northeastern United States we have been on a roller coaster polar vortex thing for as long as I can remember.  Which means that most days we wake up and the thermometer is in single digits.  Sometimes with a minus sign in front of them.  And if there isn't a minus sign in front of whatever temperature it is, the wind chill makes sure it feels like minus sign weather.  And to my friends in the Midwest, that probably sounds like summertime because it is even colder there!  So in the face of a polar vortex (or an Arctic vortex – they seem to be interchangeable terms for "it is DANG COLD!!")  I pulled out my secret weapon.  Ravioli soup.
This is a actually one of those things that can be pushed more towards soup (adding more broth) or towards a kind of stew (scooping out the ravioli and chicken and spinach and just a little broth), but whichever way you decide to go, it's warm and comforting right down to your chilly little toes.  It's also perfect for a busy weeknight, because it uses a bunch of things that basically just need to be popped in a pot of simmering chicken broth, and a few minutes later you have a warm and wonderful soup.
So simmer up some chicken broth – I like the Pacific and Imagine varieties that come in the box, but whatever you like to use is A-OK.  Now add a package of mini ravioli – you can find it in the refrigerated fresh pasta section of your supermarket.  If you are going the soup route you really do need to use the mini variety so they will fit on your spoon.  If you are going the stew version (less liquid) you can use the big kind.
Once the ravioli is cooked, add in some cooked shredded chicken (I got a rotisserie chicken breast that was exactly the right amount) and some baby spinach.  Stir it up until the spinach is wilted and then season it with some salt and pepper.
Now, here comes the soup or stew decision.  If you want to go the soup route, add a little more chicken broth or hot water until it looks, well, soup-like.  If you want to go the stew route, simply ladle out the solid parts into warm bowls and then add just enough of the broth to make a nice sauce.
Vortex?  What vortex?  We've got ravioli soup!
Print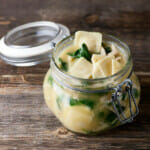 Ravioli Soup!
---
Yield:

4 servings
Ingredients
4 cups chicken broth, plus extra for thinning if needed
One 9 ounce package mini cheese ravioli
2 cups shredded cooked chicken
4 cups baby spinach
Salt and pepper
---
Instructions
Bring broth to a simmer in a large pot.
Cook ravioli in simmering broth for the time noted on the package.
Stir in chicken and spinach until spinach is wilted.
Season to taste with salt and pepper.
Thin as needed with extra broth or hot water. Serve in warmed bowls. Feel warm and cozy.