I don't know about you, but I am exhausted from all the holiday cooking.  Exhausted, I tell you!  So this recipe is basically a sneaky way to feed my unsuspecting family bacon and eggs for dinner without having them realize immediately that I am feeding them bacon and eggs for dinner.  Not that there is anything wrong with bacon and eggs for dinner, but as you have probably figured out by now, I have a really hard time leaving well enough alone.  Ahem.
So here's the fancied-up version, which starts with making bruschetta.  (This is actually toast, back in the actual real world.)  Slice up loaf of french bread into angled slices, brush it with a little olive oil, sprinkle it with salt and pepper and toast it, either in your oven or your toaster oven, and voila – bruschetta!
Playing the part of the bacon are some delicious thin slices of prosciutto.  All you need to do with this is bring it to room temperature – absolutely no cooking involved. (Please see exhausted commentary above.)  And just to make myself feel better about the whole disguised bacon and eggs for dinner thing, I steamed up some asparagus to work an actual vegetable in there.  Plus I love asparagus with a purple passion.
Last but not least are the scrambled eggs, which you make just like, well, scrambled eggs.  You want to make these last of all so they are still warm when you serve up this deliciousness.  Once the eggs are scrambled, divide them among the bruschetta, pop an asparagus spear on top of each one and wrap in a slice of prosciutto.  Lay them on a pretty platter and serve them up!
Did I mention you don't even need any forks or knives for this dinner?
Exhausted, I tell you!
Print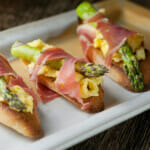 Scrambled Egg Bruschetta
---
Yield:

Serves 2-3 as dinner and 8 as an appetizer.
Ingredients
8 slices french bread, cut at an angle about 1/4 inch thick
Olive oil
Salt and pepper
8 spears of asparagus, trimmed and steamed
8 slices thin sliced prosciutto
4 eggs, scrambled
---
Instructions
Brush bread slices with a little olive oil and sprinkle with salt and pepper. Toast until golden brown.
Assemble as follows: A spoonful of scrambled egg, topped with one asparagus spear and wrapped in one slice prosciutto.
Serve at once on a platter. If you warm the platter first, they will stay warm longer!
Exhausted, I tell you!