It's FINALLY here…the season premiere of Downton Abbey!  It seems like eons since the last season ended, and while the Southern husband awaits the Super Bowl and the Southern daughter exults in the glory of Clemson winning the Orange Bowl, I am all about tonight's episode of Downton Abbey.  And so in honor of this day I have been waiting for for months and months, here is a totally inauthentic but heartfelt version of a British favorite….ploughman's lunch!
According to my copious research, ploughman's lunch is a traditional English cold meal that includes cheese, bread and beer, and often also features cold meat, pickle and hardboiled egg.  Other items I've run across as I dug deeper were chutney, sausage, apples and pickled onions.  I have no idea which combo of these various things make up the authentic version, but since I had a number of them actually in my house at the time that I made this, I decided to go for the New Jersey version of the ploughman's lunch.  Here goes!
A hunk of country bread.  That seems to be consistent across all descriptions, and I had just made my favorite almost-no-knead bread that day, so all set there.
2. A few slices of sharp cheddar.  Obviously this is supposed to be English cheddar, but I always, always have a chunk of Vermont Cabot cheddar in my fridge.  Yum.
3. Apple slices.  Self-explanatory.
4. Pickles.  Now, I saw everything from actual pickles to chutney to pickled onions in the various descriptions of ploughman's lunch, so I'm thinking that pickle up there covers the general pickle/pickled/chutney category.  Plus I love making refrigerator pickles, so I had about 50 of them on hand.
5. Which brings me to the final essential item for a ploughman's lunch.  Beer.
I know.  I know.  But it was either this or the Southern husband's stash of Landshark.  Go ahead, all you sticklers for authenticity, let me have it.  I know I seriously crossed the line with this one.
So there you have it, my somewhat off-kilter but heartfelt culinary ode to tonight's Downton Abbey.  And one of the tastiest, easiest lunches I know.
Print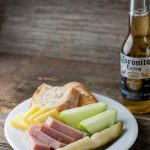 Ploughman's Lunch
---
Ingredients
Sliced ham or other cold cooked meat
Sliced cheddar or other firm cheese
Apple wedges or other seasonal fruit
Pickle wedges
Slices or wedges of country style bread
Beer!
---
Instructions
Place equal amounts of each of the above ingredients on a plate. Serve with beer. (How easy was THAT?)