Pasta carbonara is one of my go-to dishes when I need to unexpectedly make dinner.  Say, for a returning crowd of college students who arrive at a time of day when you think they can't possibly be hungry, but in fact they ARE.  Starving.  And since I am lucky enough to know a whole passel of starving college students, I can practically make pasta carbonara in my sleep.  So I decided it was time to up my game, pasta carbonara-wise, and all it took to take it from good to pretty dang great was some shredded chicken and a few scallions….and it was a whole new taste sensation!
The classic carbonara ingredients are all here…the pasta, the egg and of course the bacon.  A little parmesan cheese and a little heavy cream.  But joining this cast of characters is a generous portion of shredded chicken – this of course works great with leftover chicken, or you can pick up a rotisserie chicken or chicken breast in your supermarket.  And a few chopped scallions add both a little bite and a pretty color.
It's festive enough for a dinner party, and quick and easy enough for a crowd of hungry kids who apparently haven't eaten a THING since you dropped them off at school months ago.  It's kind of miraculous that they find the strength to keep on studying.
Or whatever it is they do after you drop them off.  I assume all they are doing is studying. 🙂
Print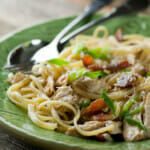 Chicken Pasta Carbonara
---
Yield:

4 servings
Ingredients
8 ounces linguine
8 slices thick cut bacon, cut into bite-sized pieces
2 cups shredded cooked chicken
3 eggs, beaten
1/2 cup heavy cream
1/2 cup shredded Parmesan cheese
3 scallions, sliced
---
Instructions
Cook pasta according to package directions and drain.
Meanwhile, cook bacon in a large deep skillet until crispy. Scoop out with a slotted spoon and drain on paper towels.
Add cooked pasta to skillet. Over medium low heat, stir in eggs, cream and parmesan cheese. Toss pasta mixture with tongs until eggs are softly cooked.
Add chicken and bacon and toss until mixed in.
Divide among warmed plates and top with sliced scallions.