Oh, the steak sandwich.  There's nothing about a nice juicy steak that I don't love, from that first bite of steak hot off the grill to standing in front of the fridge eating slices of cold leftover steak directly out of the Tupperware container.  (Guilty as charged.)  But somewhere in between those two extremes comes a happy medium, and by that I mean a steak sandwich on a soft country roll, topped with buttery bibb lettuce and a creamy, dreamy shallot sauce.
Speaking of steak, the very best way to get to this sandwich is via my favorite method of grilling steak to get a crunchy exterior and a juicy tender interior.  This method has kicked up a little controversy amongst my friends and relations, but I've gotten tons of emails from folks who have tried it and are now Believers.  Just saying.
The other thing you of course need for this recipe are a heap of shallots.  Shallots are like the fancy city cousins of onions, and I love them.  Here's my one and only picture of a shallot – I took it back when I was first getting into food photography and I was pretty dang proud of myself for figuring out how to photograph a shallot.  It's the little things in life!
Anyway, in addition to delicious hot grilled and sliced steak and a bunch of shallots, you also need nice soft rolls (I don't know about you, but biting into a sandwich made with a hard-crusted roll just irks me), and some cream and mustard to make your delectable shallot topping.
And speaking of those creamy shallots, here's how they go: send someone else outside to grill the steak, and  in the meantime chop up 4 or 5 of them into think slices, and saute them in some olive oil until they are nice and soft.  Now stir in a little cream and some mustard, and grind in a little ground pepper, and mix it around until everything is combined and nice and warm.
All that's left now is the assembly: soft roll, steak, a nice big spoonful of creamy shallots, bibb lettuce, the rest of the roll.  Open wide, take a bite.  Be very happy.
Print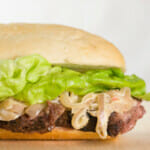 Steak Sandwiches with Creamy Shallots
---
Yield:

4 sandwiches
Ingredients
1 pound grilled steak (sirloin, strip, flank or shell steak all work well), sliced thinly
2 tablespoons olive oil
4-5 shallots, peeled and sliced thinly
1/4 cup heavy cream
1 tablespoon Dijon mustard
Freshly ground pepper
Bibb lettuce leaves
4 soft rolls, split
---
Instructions
Heat oli in a medium skillet over medium high heat. Add shallots and stir until soft, about 10 minutes.
Add cream and stir for another minute. Add mustard and stir until well combined and heated through. Grind in fresh pepper to taste.
Assemble as follows: bottom of the roll, top with steak slices, top steak with 1/4 of the shallot mixture, top with lettuce and place top of roll over all. Serve at once.
Adapted from Everyday Food