It's summer!  Lazy, hazy, wonderful summer.  And with summer come all the delicious taste sensations that are at their best when the days are long and the nights are for sleeping with the windows open: sweet corn, cheeseburgers on the grill, lemonade mint iced tea, absolutely anything made with fresh-picked basil, and of course, s'mores.  I am like a little kid with s'mores and all their graham cracker/chocolate/melty-marshmallow deliciousness.  There's nothing that can be better than a sticky, sweet, warm s'more, right?  Right?  Well, now that you mention it…
Oh yeah, baby.
Once you are about 10 minutes away from s'more time, cut a few pieces of bacon into thirds and cook them up however you like to cook bacon (I am a firm believer in cooking bacon in the oven) until it is just the way you like it.
Now, depending on how much of a bacon fanatic you are, the assembly goes as follows:
Graham cracker half
2. Crispy warm cooked bacon
3. Square of milk chocolate
4. Melty, gooey, straight off the toasting stick marshmallow
5. If you are a bacon fanatic, one more piece of bacon.  If you have more self control than I do, please proceed to step 6.
6. Other graham cracker half.
Now you know the drill – hold the s'more in your hands for the excruciating minute or two it takes to let the chocolate get nice and soft and gooey, pressing it together oh so gently….then close your eyes, and take that first bite.  Sweet, salty, chocolate, sticky, crunchy, perfect summer, and all of the sudden you are 6 years old again.  With bacon.
Happy summer, my friends.
Print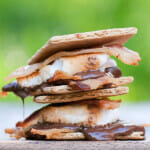 Bacon S'mores!
---
Yield:

One glorious s'more, but recipe can be expanded indefinitely.
Ingredients
2 graham cracker squares
1 marshmallow
1-2 pieces warm cooked bacon (each piece being about 1/3 of a strip)
1 2 inch piece of milk chocolate
---
Instructions
Toast the marshmallow slowly and lovingly over a grill or a campfire until it is soft and gooey.
Working quickly, assemble your s'more as follows: cracker, topped with bacon, topped with chocolate, topped with marshmallow, topped with another piece of bacon if you like, topped with the other graham square.
Press together gently and count to 50. At this point the chocolate should be soft…now take a bite and smile real big.