I don't know about you, but chicken finds its way onto my menu every single week, and sometimes more than once.  It's quick, it's easy, and I always have some of it in my freezer, and as a result, I am always trying to figure out the next great chicken recipe…especially one that can be made with other stuff I already have in my house.  Not that I have anything against going to the supermarket, but let's just say we have had more than our fair share of snow lately, and it's been hard to leave my nice warm kitchen.  And since I happened to have all the ingredients for this one, including a handful of sage…hello, chicken scallopine with lemon butter sage sauce!
The scallopine part is pretty much the way you always make it.  Pound some boneless chicken breasts until they are nice and thin.  Then you are going to dunk them in some flour, then some egg, then some bread crumbs.  Don't mess around with these three steps – I've learned from hard experience that this is the best way to keep your lovely coating from staying on your chicken where it is supposed to be.
Now cook them in a little oil until they are golden and perfect, and then set them aside while you make the sauce, which is as simple as melting butter in that same skillet, adding a bunch of sage leaves with a little lemon juice, and cooking all up for about a minute until the sage leaves are just the tiniest bit crispy.  When you serve it up, drizzle a little butter sauce over each scallopine, and make sure everyone gets their fair share of the delicate little sage leaves.
Because I also happened to have some carrots and some sour cream in my fridge, I served this with some carrot puree on the side, and life was pretty much perfect.  There's nothing like a chicken dinner!
Print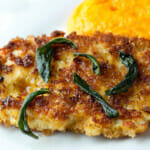 Chicken Scallopine with Lemon Butter Sage Sauce
---
Yield:

4 servings
Ingredients
4 chicken breast halves, pounded thin
1/4 cup flour
2 eggs, beaten
1/2 cup fresh bread crumbs
Salt and pepper
1/4 cup canola oil
1 stick butter
20 fresh sage leaves
1 lemon, juiced
---
Instructions
Heat canola oil in a large skillet over medium high heat.
Dip the chicken first into the flour, then the egg and finally the breadcrumbs, pressing them slightly so they stick. Gently lay them into the hot oil and cook until golden, about 4 minutes per side. Remove and set aside.
Add the butter to the skillet. When it is melted, add the sage and the lemon juice and cook for about another minute until the sage leaves are slightly crispy. Pour the butter sauce into a heat-proof measuring cup.
Put one chicken scallopine on each plate, drizzle with the butter sauce, scatter some of the crispy sage leaves on top and serve,