Now don't get me wrong – I adore the traditional meatball.  I like them in soup, I like them with spaghetti, I like them all by themselves with a little fresh ricotta – oh yes.  But I also like mixing things up a little, and there's no reason why shrimp can't get in on all the meatball action.  And as it turns out, the shrimp version of meatballs…shall we call them shrimpballs?…are even easier to make and just as tasty.  Let's make some!
Regular meatballs are usually browned and broiled before you add them to whatever sauce or soup you are cooking up.  But shrimp is at its tender best when it is just cooked through, which is why soup is the perfect answer here.  Start out by making your shrimp balls, which are simply shrimp that have been minced up in your food processor and mixed with some breadcrumbs, some pepper and Old Bay seasoning and a little milk.
Now heat up some nice chicken broth in a medium saucepan – the Imagine and Pacific brands that come in the box are my favorite.  Heat it up until it is simmering and then add in some pasta – I used regular old spaghetti, but whatever you have on hand pasta-wise will work just fine.  Cook the pasta in the broth until the pasta is about 5 minutes from being done.  Now gently drop your shrimpballs into the simmering broth and pasta and finish cooking the pasta – by the time the pasta is done the shrimpballs will be nicely and tenderly cooked through.  Taste your broth and add salt and pepper as needed.
Now ladle the soup into bowls, making sure everyone gets at least 3 of those delectable shrimpballs.  Scatter some fresh chopped parsley or chives over the top and serve it up. I guarantee that it will get you thinking about meatballs in a whole new way!
[
Print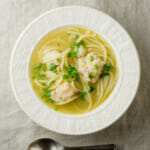 Shrimpball Pasta Soup!
---
Yield:

4-6 servings
Ingredients
1 pound shrimp, peeled and deveined
1/2 cup breadcrumbs (either dried or fresh will work)
1/4 teaspoon cayenne pepper
1 tablespoon Old Bay seasoning
1/2 cup milk
6 cups chicken broth (I recommend the Pacific and Imagine brands that come in the box)
1/2 pound spaghetti or other pasta
Salt and pepper to taste
Chopped fresh parsley for garnish
---
Instructions
Process shrimp in the food processor until finely chopped. Transfer to a bowl and mix with breadcrumbs, cayenne, Old Bay and milk. Form into 1 inch meatball shapes (mixture will be soft).
Heat chicken broth to boiling and add pasta. Cook according to pasta package directions until pasta is 5 minutes from being done.
Gently add shrimpballs to boiling broth (lowering them in with a spoon works best) and finish cooking pasta with shrimpballs. Taste broth and season with salt and pepper.
Ladle into bowls, garnish with parsley and serve.