I don't know any bad day that can't be made at least a little bit better with a crunchy, buttery, creamy egg in a hole.  If you've never heard of this bit of deliciousness, it's as simple as this: a piece of buttered bread with a hole torn in the center that you fry up gently with an egg in the middle.  It takes all of about 5 to 10 minutes, depending on how you like your egg, and as soon as you take that first bite things are going start looking up.
Now, you can go the simple and straightforward route by simply buttering your bread, frying it until it is golden, and then finishing it up with the egg and digging in, and that is just fine.  But if you are having this kind of a day…
…then I highly recommend going the fancy route, which will take you about 90 extra seconds, and that's this: once your egg in a hole is done to your liking (I like mine soft-set, personally), scoop it out and put it on your plate.  Now add a tablespoon of sherry vinegar, a tablespoon of water and a tablespoon of butter to the pan and swirl it all around until the butter is melted and you've stirred up some of the delicious little bits and drippings from frying the egg.  Now drizzle this over your egg in a hole and toss on some chopped parsley and a little fresh ground pepper.
Take a bite.  Now you feel like this…
Yes you do.  Fancy egg in a hole – we all need one every once in a while!
Print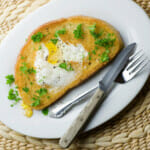 Fancy Egg In A Hole
---
Yield:

1 serving - can be increased infinitely!
Ingredients
1 slice of your favorite bread
2 tablespoons butter
1 egg
1 tablespoon sherry vinegar
1 tablespoon water
Fresh chopped parsley
Freshly ground pepper
---
Instructions
Tear a 3 inch round hole in the center of your bread. Butter both sides of the bread with 1 tablespoon of the butter.
Heat a medium skillet over medium high heat. Fry the bread until just golden on each side.
When the second side of the break is lightly golden break the egg gently into the hole. Fry the egg until it is done to your liking – you can even flip it if you are an over easy sort of egg person.
When the egg is done remove to a plate. Add the vinegar, water and remaining tablespoon of butter to the skillet and stir until the butter is melted, scraping up any bits from the bottom of the skillet.
Drizzle the vinegar sauce over the egg, garnish with parsley and fresh ground pepper and eat at once. Feel instantly better.