This is one of those recipes that just DEMANDS an exclamation point as part of its title…first and foremost because it tastes so dang good that you get all hopped up just saying its name.  If you are me, anyway.  And second, because it comes from the always enthusiastic, energetic and creative Emeril Lagasse.  I love Emeril –  everything he makes seems extra delicious because he is so excited about whatever it is – and let me tell you, these cheesy, easy shrimp melts are something to get excited about!
They are from his new book, EMERIL'S KICKED UP SANDWICHES, and speaking of things to get excited about, I have three copies of this delicious collection of sandwiches to give away…more at the end of this post on that.
It's chock-full of things like fried oyster po-boys, burgers stuffed with blue cheese, and angel food cake sandwiches with berries.  Yum, right??  But as soon as I got my hands on my copy, I went right for the New Orleans shrimp melt, which is spicy shrimp salad sandwich with Gruyere cheese melted on top.  Quick, easy and oh-my-goodness delicious.  Emeril's version calls for making the sandwich with toasted slices of brioche bread and while I'm sure that is fabulous, I departed just the tiniest bit from his recipe by using toasted top-split hot dog rolls, which are what I use for lobster rolls.  I happened to have them in the fridge, and they turned out to be just right – soft and easy to handle.
Now that I have scarfed down the world's best shrimp melt, I have about 25 recipes in this fun cookbook flagged to make as soon as humanly possible, but in the meantime I want to share the deliciousness with you guys.  So in addition to the shrimp melt recipe below, I have three copies of EMERIL'S KICKED UP SANDWICHES to give away.  Just leave me a comment telling me your favorite sandwich (pb&j's are perfectly okay!) and in a week I will randomly pick three winners.
This giveaway is now closed.  But you can still enjoy some shrimp melts!
Shrimp melts! Bam!
Print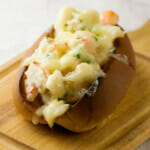 Shrimp Melts!
---
Yield:

4 sandwiches
Ingredients
2 lemons, cut in half
1 tablespoon Old Bay seasoning
2 bay leaves
2 tablespoons kosher salt
2 pounds shrimp (large or medium), peeled and deveined
4 hot dog rolls
Butter, room temperature
1/2 cup mayonnaise
1/4 cup minced red onion
2 tablespoons chopped fresh parsley
1 tablespoon chopped fresh chives
1 tablespoon lemon juice (preferably fresh)
1 teaspoon Dijon mustard
1/4 teaspoon hot sauce (Tabasco or whatever your fave is)
Fresh ground pepper
1 1/2 cup shredded Gruyere or Swiss cheese
---
Instructions
Pour about 4 quarts of water into a large pot and add lemons, Old Bay, bay leaves and salt, and bring to a boil. Add shrimp and cook for two minutes, then drain and transfer to a bowl of ice water to cool them down. As soon as they are cool enough to handle, chop them into bite-sized pieces.
Spread the inside of the hot dog rolls with butter, and run them under the broiler until they are golden brown, watching them carefully to make sure they don't burn.
Mix together mayo, onion, herbs, lemon juice, mustard and hot sauce. Season with salt and pepper, and then fold in shrimp.
Fill the hot dog rolls with shrimp salad. Transfer to a foil-lined baking sheet and top with shredded cheese. Place the shrimp sandwiches under the broiler until the cheese is melted, about 5 minutes, watching carefully. Serve at once.
Adapted from the very delicious EMERIL'S KICKED UP SANDWICHES