My cookbook shelf is, shall we say FULL?  And by full I mean that there is no more room on any shelf of the official cookbook bookcase, and so the extras are piling up on the unofficial cookbook bookcases…otherwise known as my kitchen hutch, my desk, my coffee table…you get the picture.  Because of this, I am extremely picky about letting any new cookbooks into the fold.  They can't just be good, they have to be so great and jam-packed with deliciousness that I can't turn them away.  And let's just say that the cookbook that gave me this grilled cheese sandwich with bacon and avocado has been the first one I've added to my collection in a while. Please meet the very delicious Dahlia Bakery Cookbook.
Isn't it pretty?
Now, this cookbook (as you would expect from a cookbook with the word "bakery" in the title) is chockfull of sweet and scrumptious delectableness.  Cherry Almond Scones. Hot Buttered Rum Apple Pie!   Oregon Raspberry Pinot Noir Sorbet!!  But me being me, I went right for the bacon…as in this cheesy, dreamy, creamy wonder of a grilled cheese sandwich.
Even better, it's as easy to make as it is delicious.  Some nice buttered country bread, a little Vermont cheddar (as always, I love Cabot!), some mashed avocado and yes, some bacon.  Put them all together and grill it up…I used my electric griddle but a good old-fashioned frying pan on the stove works just fine, and when summertime comes back I will also try this on the actual grill.
So at the end of the day, I will be keeping this fabulous cookbook around, but I can't bear to not share the love, so I have three more to give away.  Just leave me a comment below telling me your favorite bakery treat, and in one short week I will pick three happy winners from the comments.  And if you want a preview of what you are in store for, give this sandwich a whirl…you'll never think about grilled cheese the same way again!
This giveaway is now closed…but you can still enjoy the grilled cheese sandwich below!
Recipe from The Dahlia Bakery Cookbook
Print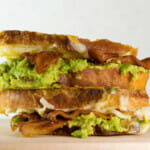 Grilled Cheese with Bacon and Avocado
---
Yield:

4 sandwiches
Ingredients
8 thick cut bacon slices
1 large ripe avocado
Kosher salt and freshly ground black pepper
Wedge of lemon or lime
8 slices rustic bread, cut about 1/2 inch thick
4-6 tablespoons salted butter
8-12 ounces cheddar cheese, grated
---
Instructions
Cook the bacon in a skillet over medium high heat until crisp. Drain on paper towels and set aside.
Cut the avocado in half, remove the pit and mash with a fork. Season to taste with salt and pepper and mix with a squirt of lemon or lime.
Place the 8 slices of bread and spread one side of each slice of bread with butter. Turn the bread over on a work surface so unbuttered side is facing up. Top four slices of bread with cheddar, dividing the cheese between all four sandwiches
Spread the other four slices of bread with mashed avocado, dividing it evenly, and top the avocado with two slices of bacon. Press a cheese-topped bread slice and an avocado-topped bread slice together with the filling on the inside and the buttered slices facing out.
Place 2 large frying pans over medium heat and place two sandwiches in each pan. When the first side is golden turn the sandwiches and brown the other side, about three minutes per side. If needed, add a little more butter to the pan. When both sides are golden and the cheese is melted, remove the sandwiches from the pan, slice them in half and serve hot.