This conglomeration of creamy brie, sweet tomatoes, salty prosciutto and soft baguette is my current favorite decadent sandwich, for oh so many reasons. The deliciousness part is of course the main reason, but is followed by the fact that once you roast the tomatoes, it takes all of five minutes to put together.  And last but not least, I have sentimental reasons for loving it!
Each year we spend a happy summer weekend with our friends Janet and Bruce, and while we do manage to squeeze in other activities between meals, we spend some serious quality time lounging around their beautiful lake house noshing.  And while we have our old favorites that we make year after year (grilled pizza!), each year there's one thing that stands out from the culinary pack.  This year it was the bruschetta with roasted tomatoes and fresh ricotta and prosciutto.  We made three for each person, and let's just say everybody was Keeping Track.
So when I got home and was reminiscing about those creamy, sweet, salty bruschetta, my mind started wandering towards how I could translate them over into a sandwich.  The tomatoes and the prosciutto stayed, but for purposes of a sandwich, I decided Brie would work a little better, and that a soft baguette would be more manageable sandwich-wise than the crunchy bruschetta toast.    If you are not a prosciutto person, thinly sliced ham or salami will work just as well.  The result was a quick, easy, hearty sandwich…I served mine open-faced, but you could easily pop the other half of the baguette on top and have it the regular way.
So now you have a great sandwich in your future, and I have my fond summer memories in sandwich form.  Happiness all around!
Print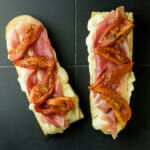 Brie, Roasted Tomato and Prosciutto Sandwich
---
Yield:

Four sandwiches
Ingredients
6 tablespoons plus 1 teaspoon extra-virgin olive oil
2 large garlic cloves, minced
2 teaspoons finely chopped fresh rosemary
1 teaspoon coarse kosher salt
1 teaspoon freshly ground black pepper
6 large plum tomatoes (about 1 1/2 pounds), quartered lengthwise
1 baguette
8 ounces Brie cheese, room temperature
4 plum tomatoes (follow roasted tomato bruschetta roasting directions)
8 thin slices prosciutto
---
Instructions
Preheat oven to 425°F.
Stir 6 tablespoons oil, garlic, rosemary, 1 teaspoon coarse salt, and 1 teaspoon pepper in large bowl to blend. Add tomatoes and stir to coat. Let stand 5 minutes.
Line rimmed baking sheet with foil. Lay the tomatoes in a single layer on the baking sheet.
Roast tomatoes until skin is browned and blistered and tomatoes are very tender, about 35 minutes. Cool tomatoes on sheet.
Slice baguette lengthwise and cut into 6 inch sections. You'll be using four of these sections for the sandwiches…if you have leftover baguette, it will make great breadcrumbs, other sandwiches, etc!)
Slice the brie and divide the slices among each baguette half. Spread the cheese to the edge of each half (and yes, it's fine to use the rind!)
Top each sandwich with 4-6 tomato pieces and two slices of prosciutto. If you like your sandwiches covered and not open-faced, you can use the leftover baguette for this too. Serve and enjoy!