We are big old fans of crab cakes in my house.  We make them at home, we order them on menus…we are a crabby couple, the Southern husband and me.  So it wasn't much of a leap to think that if crab cakes could make us so happy, what would happen if we tried the same basic approach with shrimp?  And what if we we served them up with some bibb lettuce and radish salad with buttermilk dressing?
So I gave some raw peeled shrimp a whirl in my food processor until it was chopped, and then mixed it up with some egg, some mayo, some bread crumbs, a little horseradish, a handful of chives and some salt and pepper.  I patted them into little cakes and let them chill down a little in the fridge (they are going to be pretty loose – not to worry.  They are going to cook up just fine when the time comes).
Meantime I threw together the fixings for the salad, which you can find by clicking here, and by the time I was done with that I was ready to fry up the shrimp cakes.  Heat up a little olive oil in a skillet and cook them until they are nice and golden on each side – about 3-4 minutes per side.  The shrimp will cook through and the egg will hold everything together beautifully.  Now pop them on plates with your pretty salad and some lemon wedges.
I'll never say no to a good crab cake, but shrimp cakes?  You are pretty dang good too, and since I always have shrimp in my freezer I think we shall be seeing you again soon.
Which just goes to show you, you can teach an old dog new tricks.
(This is apparently the Take-A-Nap-On-The-Rung-Of-A-Stool trick.  Hey, you never know.)
Here's the recipe!
Print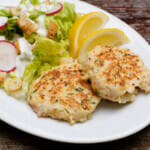 Crispy Shrimp Cakes
---
Yield:

8 patties (I serve two patties per person)
Ingredients
1 pound finely chopped peeled and deveined shrimp
1/3 cup mayonnaise
1/4 cup dry bread crumbs
1 egg
1 tablespoon chopped chives
1 tablespoon horseradish
1/2 teaspoon salt
1/4 teaspoon pepper
2 tablespoons olive oil
Lemon wedges for serving
---
Instructions
Combine all ingredients except oil and lemon together and form into 8 patties. They will be soft and loose – don't worry! Chill for about 30 minutes in the fridge.
Heat the oil in a large skillet over medium high heat. Add patties to skillet – you may find it easiest to help them along by transferring them from the plate to the skillet with a spatula.
Fry each side until golden brown, about 3-5 minutes per side.
Serve with lemon wedges.
Recipe adapted from Real Simple