A few weeks ago I discovered the wonder that is chocolate dipped potato chip cookies, and after falling head over heels for those I immediately started rifling through my snack cupboard to see what other snack foods I could bake into cookies.  And while snack foods come and snack foods go in my house, one thing I always, always, always have on hand is popcorn.  The kernels, not the stuff in the bag…real, honest to goodness old-fangled popcorn.  And so I thought….popcorn cookies!
Because I am all about the sweet and salty anything and everything.  I'm also happy to mix up popcorn with just about anything…I drop it into soup, I mix it up with caramel and bacon (of course), and I am perfectly happy just popping up a big mess of it and eating it with a little drizzle of butter and salt.  So once the lightbulb went off, it made perfect sense the popcorn and chocolate cookies could be best friends.
So here's how this goes: you start with a basic light chocolate chip cookie dough…but when it comes to the part where you stir in the chips, you are also going to stir in some popcorn.  You need to pop your own (and if you have never done this, it's as easy as putting about a 1/4 cup of popcorn in a plain old brown paper lunch bag, rolling the top down and microwaving it for about 2 minutes.  You'll never buy those chemical-infused expensive microwave popcorn bags again!)  Once your popcorn is popped, salt it a little – no butter though – and crush it just a little in your hands.  Once the cookies are done, they are a perfect mix of sweet chocolate, salty-crunchy popcorn and cookie.  Light and sweet and scrumptious.
Clearly I need to figure out a cookie version of pretzels.  They are up there in my snack cabinet as we speak feeling all left out.
Print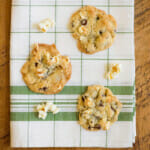 Popcorn Cookies
---
Yield:

About 25-30 cookies
Ingredients
1/2 cup soft butter
1 cup sugar
1 egg
1 teaspoon vanilla
1 1/4 cups flour
1/2 teaspoon baking soda
1 teaspoon salt
2 cups popcorn, crushed just a little. (Make sure you pick through the popcorn to make sure there are no hard little unpopped kernels hiding in there!)
1 cup chocolate chips
---
Instructions
Preheat oven to 350. Cream butter and sugar until fluffy and pale, about 2 minutes. Add egg and vanilla and beat until well-combined.
In a smaller bowl, mix together flour, baking soda and salt. Add slowly to the butter mixture, making sure the flour gets fully combined (scrape the bottom of the bowl to be sure).
Stir the chocolate chips and the popcorn in carefully. Using a cookie scoop, drop tablespoons of dough onto a parchment-lined cookie sheet, spacing the cookies about 2 inches apart. Bake for about 12-14 minutes or until lightly golden.
Cool for 5 minutes on the cookie sheet and then remove to rack to cool completely.