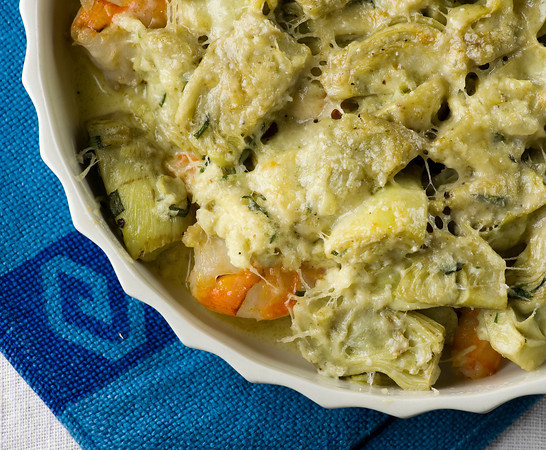 Okay, so I know that this is not the most beautiful food picture I have ever taken.  Not by a long shot…and usually when that happens, I usually don't post about the recipe, because for me and my little blog, it's as much about the picture as it is the recipe.  Please see this post for more on this stubborn quirk of mine and what can happen when I try and fight against it.
But this one…this recipe was just too dang good and easy for me to not break all my rules and post a less-than-wonderful picture, and when you take a bite of this one you will understand.  It is a heavenly combo of shrimp cooked in garlic and butter topped with a creamy, tarragon-infused "crust" of artichokes that you sprinkle with parmesan cheese, run under your broiler and then dig into.  It's one of those under-30-minute miracles of scrumptiousness that can turn an ordinary Tuesday night into ooh-la-la.  It just doesn't take a pretty picture, and because that makes me nuts I will add a completely irrelevant picture I took out of the airplane window a while ago when we went down to Clemson University to visit the teenager.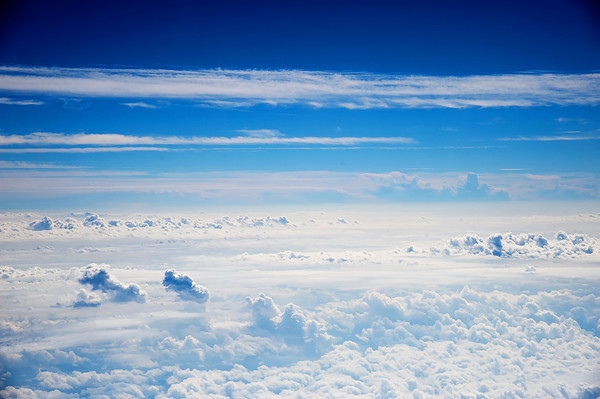 Pretty picture, right??  I feel better now.  Almost as good as you will feel after you make this quick and scrumptious supper…you'll never feel the same way about pot pie again!
Print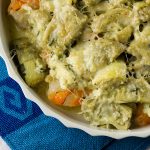 Shrimp Artichoke Pot Pie
---
Yield:

6 servings
Ingredients
3 tablespoons butter
2 cloves garlic, minced
2 pounds of shrimp, peeled and deveined
1/4 teaspoon red pepper
1 tablespoon olive oil
2 shallots, minced
2 nine ounce packages frozen artichoke hearts, thawed and quartered
1/2 cup heavy cream
1 tablespoon chopped fresh tarragon
1/2 teaspoon salt
1/4 teaspoon fresh ground pepper
1/2 cup freshly grated parmesan cheese
---
Instructions
Melt 2 tablespoons of the butter in a frying pan over medium heat and saute the garlic for 1-2 minutes until softened. Add the shrimp and red pepper and stir for another 2-3 minutes. Remove to a bowl and set aside.
Add the remaining tablespoon of butter and the olive oil over medium high heat. Add the shallots and saute for two minutes. Add the artichoke hearts and stir for 2 minutes more.
Add cream, salt, pepper and tarragon and turn the heat up high enough to bring to a boil. Reduce heat and simmer for 5 minutes.
Pour the seafood mixture into a broiler-safe baking dish that will hold it in one layer. Spread the artichoke "crust" mixture over the top. Sprinkle with parmesan cheese.
Pre-heat the broiler and broil the pot pie until the cheese is melted, about 3-5 minutes, watching carefully to make sure it doesn't burn. Serve at once.
Still Hungry?
Marinated Shrimp with Cucumber Noodles from Framed Cooks
Zesty Lime Shrimp and Avocado Salad from Skinny Taste
Linguine in Herbed Artichoke Sauce from Framed Cooks
Recipe adapted from POT PIES