Before I get started on this bacon leek risotto with poached egg, let's talk for a second about leeks.  I love 'em…they are delicious and spring-like, and they can rev up a dish in a way that is more delicate than your plain old garden variety onion ever could. (Sorry, onions.)  But have you ever noticed that is pretty much impossible to buy just one?
They always seem to travel in packs, three or four or FIVE rubber-banded together in a giant bundle.  Sometimes you can find them loose at a friendly farmer's market, but usually you have to choose between buying enough leeks to fill an entire refrigerator, or sneaking one out of the pack and then looking all innocent while the poor supermarket checker tries to figure out how to sell you just one.  I just can't bring myself to mess with the supermarket checker that way, so inevitably find myself trying to deal with a mass of leeks when really, I only needed one.  So one recent week I set out to make something that included a leek in it every dang day until they were all productively used up.
I made chicken and gnocchi dumplings.  I made chicken noodle soup.  And I still had two lonely leeks left to go…and so I made this.  Creamy, dreamy, bacony, leek-filled risotto with one perfect poached egg on top.  Break the poached egg so that it swirls through your risotto and, well, it's enough to make you want to have a never-ending supply of leeks always and forever on hand.
And a never ending supply of bacon, of course.  You never know what's around the next corner.
Print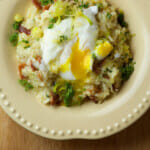 Bacon and Leek Risotto with Poached Egg
---
Yield:

6 servings
Ingredients
1 tablespoon olive oil
8 slices bacon, cut into 1/2 inch pieces
2 cups thinly sliced leek (light green and white parts only)
1 1/2 cups arborio rice
3/4 cup white wine
5 cups chicken broth (I like the Pacific and Imagine boxed variety)
6 eggs
3 tablespoons chopped parsley, plus extra for garnish
1 tablespoon butter
1/4 cup freshly grated Parmesan cheese, plus extra for garnish
---
Instructions
Heat oil in a large saucepan and add bacon. Cook until bacon is crisp, then remove with a slotted spoon and drain on paper towels. Set aside.
Add leeks to the pan and stir until soft, about 3-4 minutes. Scoop out a couple of tablespoons of leeks and save for garnish, leaving the rest in the pan.
Add rice to the pan and stir for a minute or two. Add wine and simmer for 2 minutes.
Now start adding the broth in 1/2 cup increments, letting the rice absorb each half cup of broth before you add the next one. Stir from time to time. All the broth should be added and absorbed in about 25 minutes.
While the risotto is cooking, poach the eggs by bringing a large deep skillet of water to a simmer. Crack each egg into a small bowl or teacup, then gently slip each one into the water. Cover the skillet, turn off the heat and let the eggs sit in the water for exactly four minutes. Then scoop them out with a slotted spoon and put them on a plate.
Back to the risotto: when the rice is cooked, stir in the butter, bacon, chopped parsley and cheese. Taste and add salt and pepper as needed.
Divide the risotto among 6 bowls and top with a poached egg, the reserved leeks, cheese and parsley. Break the egg so the yolk spreads into the risotto. Serve at once and be very happy.
Recipe adapted from Bon Appetit
Still Hungry?
Coconut Shrimp Risotto from Framed Cooks
Portuguese Duck Risotto from Leite's Culinaria
Roasted Red Pepper Risotto with Spinach from Bev Cooks